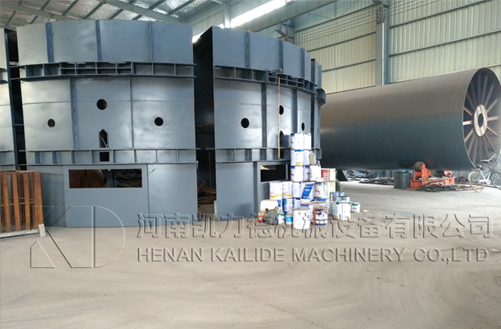 Zinc oxide rotary kiln
Application:Used for zinc oxide ore or zinc ore industrial slag calcined production of zinc oxide
Introduction
zinc oxide Rotary Kiln is used for treatment of Zn from Zinc smelters or steel mill dust, EAF dust, low grade zinc ore etc. Zinc oxide rotary kiln consists of cylindrical shell, supporting device, supporting device of thrust roller, driving unit, movable kiln head, sealing device on the tail of kiln, coal dust pipe device, etc.


Working principle
With a certain slope to the level, the whole kiln body is supported by rollers and fitted with thrust rollers to control up and down movement of the kiln body. Besides main driving unit for driving system, it is also fitted with the auxiliary driving unit so as to ensure the kiln body still can rotating when the main motor is powered off and prevent it from deforming. The kiln head adopts housing type sealing and kiln rear uses axial contact sealing unit so that reliability of sealing could be ensured.
1.advanced main shaft structure, automatic temperature measuring device and electrical heating device.
2.simple structure, convenient replacement and maintenance without any damage to cylinder
3.cost minimization, stable clinker quality and high economic efficiency
Specifications
Model
(mm)

The size of the kiln

Capacity
(t/h)

Speed
(r/min)

Power
(kw)

Weight
(t)

Diameter
(mm)

Length
(mm)

Gradient
(%)

φ1.4×33

1.4

33

3

0.9-1.3

0.39-3.96

18.5

47.5

φ1.6×36

1.6

36

4

1.2-1.9

0.26-2.63

22

52

φ1.8×45

1.8

45

4

1.9-2.4

0.16-1.62

30

78.2

φ1.9×39

1.9

39

4

1.65-3

0.29-2.93

30

77.59

φ2.0×40

2

40

3

2.5-4

0.23-2.26

37

119.1

φ2.2×45

2.2

45

3.5

3.4-5.4

0.21-2.44

45

128.3

φ2.5×40

2.5

40

3.5

9.0-10.5

0.44-2.44

55

149.61

φ2.5×50

2.5

50

3

6.25-7.4

0.62-1.86

55

187.37

φ2.5×54

2.5

54

3.5

6.9-8.5

0.48-1.45

55

196.29

φ2.7×42

2.7

42

3.5

10.0-11.0

0.10-1.52

55

198.5

φ2.8×44

2.8

44

3.5

12.5-13.5

0.437-2.18

55

201.58

φ3.0×45

3

45

3.5

12.8-14.5

0.5-2.47

75

210.94

φ3.0×48

3

48

3.5

25.6-29.3

0.6-3.48

100

237

φ3.0×60

3

60

3.5

12.3-14.1

0.3-2

100

310

φ3.2×50

3.2

50

4

40.5-42

0.6-3

125

278
Send Message
Thank you for your interest in Kailide machine. Any of your comments or suggestions will be welcome to fill in the form of the following email via us.Please, or call +86-18903841927. Do not worry, we will not share your name, address or phone number with anyone. We love our company, and will do our best to help you. Thank you for taking the time to get in touch with us.   E-mail: mrjohnfan168@gmail.com   Tel: +86-18903841927