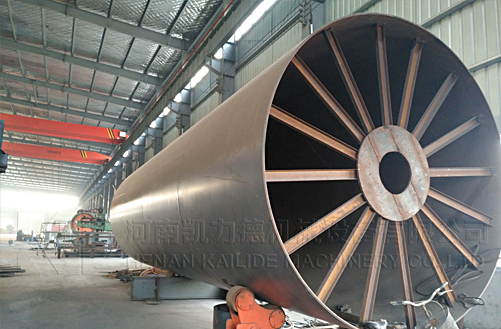 Magnesium rotary kiln
Application:Magnesium rotary kiln production technology is relatively simple,putting dolomite by a crusher to qualified material.
Introduction
Magnesium Rotary kiln is widely used for many industries like metallurgy, chemical industry, building refractory materials, environmental protection, etc. The Rotary Kiln consists of cylindrical shell, supporting device, supporting device of thrust roller, driving unit, moveable kiln head, sealing device on the tail of kiln, coal dust pipe device, etc. the kiln body has a certain tilt angle with level. The whole kiln body is supported by the roller supporting device, and it is also equipped with thrust roller device to control the up and down movement of the kiln body
1. advanced shaft structure, automatic temperature measuring device and electrical heating.
2. Magnesium rotary kiln production technology is relatively simple, and structure is simple, convenient and reliable control in the production process
Specification

Technical parameters

Main reducer

Main motor

Support Number

Weight
(t)

Remark

Rotation speed
(r/min)

Slope
(%)

Capacity
(t/h)

Model

Speed ratio

Model

Power
(kw)

Rotation speed
(r/min)

Φ1.9/1.6
×36

0.53-1.59

4

2.5-3

JZQ750-1

48.58

JZT-72-4

30

1200/400

3

53

Φ2.1/1.8
×36

0.5-1.51

4

4

UT2-110

163.36

JZS-81

30/10

1410/470

3

75

Φ1.2×25

0.5-1.6

3

PM650

40.17

JZTY71-4

22

1200/120

3

34

Φ1.6×32

0.158-0.258

3

PM750

48.57

JZJY61-4

15

1200/120

3

46.82

Φ1.8×45

0.66-1.98

4

3.5

UT2-110

163.36

JZS-81

30/10

1410/470

3

80

Φ2.2×50

0.125-1.25

3.5

4

ZS145-11

157

YCT280-4A

30

1320/132

3

130.71

Φ2.5×50

0.516-1.549

3.5

5.5

ZS165-7

99.96

YCT355-4A

55

1320/440

3

167.5

Φ3×48

0.3309-3.309

3.5

35

ZL130-14

32.11

ZSN4-250-21B

90

1000/100

3

237

Outside decomposition kiln

Φ3.2×50

0.398-3.975

3.5

50

ZL130-16

40.85

ZSN4-280-11B

190

1500/150

3

263

Outside decomposition kiln

Φ3.3×52

0.391-3.91

3.5

50

ZSY500-28

27.707

ZSN4-315-082

190

1000/100

3

280.8

Outside decomposition kiln

Φ4×60

0.396-3.96

3.5

104

ZSY630-35.5

34.601

ZSN4-355-092

315

1000/100

3

487.5

Outside decomposition kiln

Φ4.2×60

0.4165-4.165

3.5

116

ZSY710-35.5

35.526

ZSN4-355-12

420

1000/100

3

576.1

Outside decomposition kiln

Φ4.3×62

0.398-3.98

3.5

125

ZSY710-35.5

35.714

ZSN4-355-12

420

1000/100

3

598.5

Outside decomposition kiln

Φ4.8×74

0.35-4

4

208

JH710C-SW305-40

42.226

ZSN4-400-092

Outside decomposition kiln
Send Message
Thank you for your interest in Kailide machine. Any of your comments or suggestions will be welcome to fill in the form of the following email via us.Please, or call +86-18903841927. Do not worry, we will not share your name, address or phone number with anyone. We love our company, and will do our best to help you. Thank you for taking the time to get in touch with us.   E-mail: mrjohnfan168@gmail.com   Tel: +86-18903841927