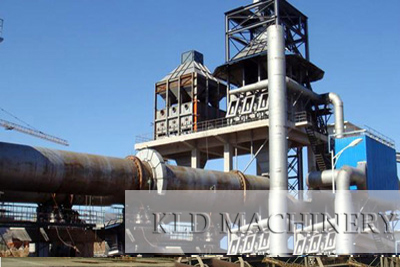 Limonite rotary kiln
Application:it's widely used in building material, chemical, environment protect industry etc.
Introduction
Kailide machinery limonite rotary kiln is simple structure, convenient operation control, less wearing parts appear in the production, high operation rate, the material after calcination, the outlet products are of high quality, Kailide machinery is experienced, processional technical team with hard technical strength, can provide the majority of users with advanced efficient shaft preheater, five cyclone preheater.
1. Kailide machinery limonite rotary kiln hood adopt large volume way, folio kiln door structure, so that makes the production flow more smoothly.
2. Kiln head and kiln end are friction radial maze seal, fish scale piece double seal forms,
3. Simple structure, easy maintenance, is currently the most advanced sealing form inland.
Specification
(mm)

Kiln body size

Capacity
(t/h)

Rotation speed
(r/min)

Motor power
(kw)

Weight
(t)

Remark

Diameter
(mm)

Length
(mm)

Slope
(%)

φ1.4×33

1.4

33

3

0.9-1.3

0.39-3.96

18.5

47.5

----

φ1.6×36

1.6

36

4

1.2-1.9

0.26-2.63

22

52

----

φ1.8×45

1.8

45

4

1.9-2.4

0.16-1.62

30

78.2

----

φ1.9×39

1.9

39

4

1.65-3

0.29-2.93

30

77.59

----

φ2.0×40

2

40

3

2.5-4

0.23-2.26

37

119.1

----

φ2.2×45

2.2

45

3.5

3.4-5.4

0.21-2.44

45

128.3

---- 

φ2.5×40

2.5

40

3.5

9.0-10.5

0.44-2.44

55

149.61

----

φ2.5×50

2.5

50

3

6.25-7.4

0.62-1.86

55

187.37

----

φ2.5×54

2.5

54

3.5

6.9-8.5

0.48-1.45

55

196.29

----

φ2.7×42

2.7

42

3.5

10.0-11.0

0.10-1.52

55

198.5

----

φ2.8×44

2.8

44

3.5

12.5-13.5

0.437-2.18

55

201.58

suspension preheater kiln

φ3.0×45

3

45

3.5

12.8-14.5

0.5-2.47

75

210.94

----

φ3.0×48

3

48

3.5

25.6-29.3

0.6-3.48

100

237

outside decomposition kiln

φ3.0×60

3

60

3.5

12.3-14.1

0.3-2

100

310

----

φ3.2×50

3.2

50

4

40.5-42

0.6-3

125

278

outside decomposition kiln
Send Message
Thank you for your interest in Kailide machine. Any of your comments or suggestions will be welcome to fill in the form of the following email via us.Please, or call +86-18903841927. Do not worry, we will not share your name, address or phone number with anyone. We love our company, and will do our best to help you. Thank you for taking the time to get in touch with us.   E-mail: mrjohnfan168@gmail.com   Tel: +86-18903841927