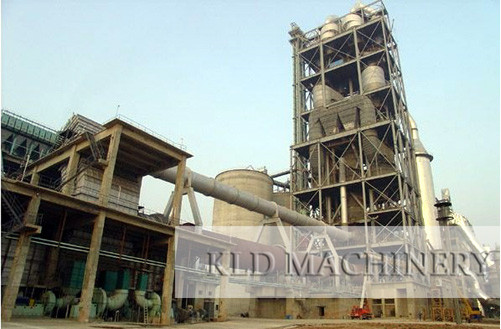 Ceramic sand rotary kiln
Application:it is widely used for dolomite, kaolin, and etc ceramic materials calcination and making.
Introduction
It is widely used for many industries like metallurgy, chemical industry, building refractory materials, environmental protection, etc.
Working principle
Cement raw material is fed into the upper end of the kiln. As the kiln is rotated, the material moves slowly down the kiln through a
calcining zone and then a clinkering zone, and is thereafter discharged through the discharge end of the kiln into a cooler.
1.Kailide ceramic sand rotary kiln transmission parts in addition to setting the main drive , but also set auxiliary transmission drive to ensure kiln go on rotating slowly to avoid kiln body deformation while the main drive power interruption. Kiln head using shell cover seal , kiln end equipped with axial contact seals, ensured the sealing reliability.
2. advanced shaft structure, has automatic temperature measurement and electrical heating device ,meanwhile you can choose liquidity support
3.Sealing equipment: there are many different design of sealing style for choice according to kiln models, including air cylinder edge sealing, spring edge sealing, graphite block sealing and combination for above. The feather is adaptive for cylinder rotating and swing. And airproof performance is well
Specification

(mm)

Kiln body size

Capacity

(t/h)

Rotation speed

(r/min)

Motor power

(kw)

Weight

(t)

Remark

Diameter

(mm)

Length

(mm)

Slope

(%)

φ1.4×33

1.4

33

3

0.9-1.3

0.39-3.96

18.5

47.5

----

φ1.6×36

1.6

36

4

1.2-1.9

0.26-2.63

22

52

----

φ1.8×45

1.8

45

4

1.9-2.4

0.16-1.62

30

78.2

----

φ1.9×39

1.9

39

4

1.65-3

0.29-2.93

30

77.59

----

φ2.0×40

2

40

3

2.5-4

0.23-2.26

37

119.1

----

φ2.2×45

2.2

45

3.5

3.4-5.4

0.21-2.44

45

128.3

---- 

φ2.5×40

2.5

40

3.5

9.0-10.5

0.44-2.44

55

149.61

----

φ2.5×50

2.5

50

3

6.25-7.4

0.62-1.86

55

187.37

----

φ2.5×54

2.5

54

3.5

6.9-8.5

0.48-1.45

55

196.29

----

φ2.7×42

2.7

42

3.5

10.0-11.0

0.10-1.52

55

198.5

----

φ2.8×44

2.8

44

3.5

12.5-13.5

0.437-2.18

55

201.58

suspension preheater

kiln

φ3.0×45

3

45

3.5

12.8-14.5

0.5-2.47

75

210.94

----

φ3.0×48

3

48

3.5

25.6-29.3

0.6-3.48

100

237

outside decomposition kiln

φ3.0×60

3

60

3.5

12.3-14.1

0.3-2

100

310

----

φ3.2×50

3.2

50

4

40.5-42

0.6-3

125

278

outside decomposition kiln
Send Message
Thank you for your interest in Kailide machine. Any of your comments or suggestions will be welcome to fill in the form of the following email via us.Please, or call +86-18903841927. Do not worry, we will not share your name, address or phone number with anyone. We love our company, and will do our best to help you. Thank you for taking the time to get in touch with us.   E-mail: mrjohnfan168@gmail.com   Tel: +86-18903841927