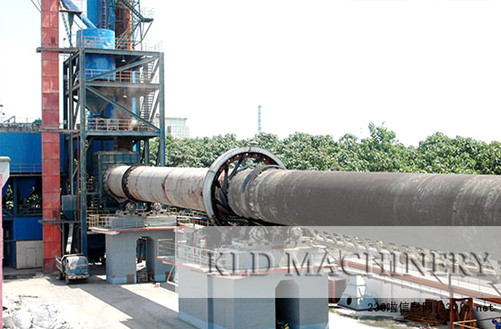 Soil ceramic rotary kiln
Application:This machine mainly used for the production of iron oxide pellets, iron concentration direct reduction and alumina production.
Introduction
Soil ceramic kiln is widely applications, mainly applicable to ceramic sand, yellow mud, fly ash., etc. Ceramic kiln operating temperature can generally reach 950-1050 degrees Celsius.
1. soil ceramic kiln produced by Kailide machinery with high specialization degree,
2. can achieve temperature automation control , especially the over-temperature alarm system installed improved the quality of calcined material security
3. the new type ceramic rotary kiln can take advantage of the secondary preheating air, improved equipment energy saving effect.
4. kiln head and kiln end using advanced sealing technology and device, stable equipment operation and, greatly extended the using life.
Specification

(mm)

Kiln body size

Capacity

(t/h)

Rotation speed

(r/min)

Motor power

(kw)

Weight

(t)

Remark

Diameter

(mm)

Length

(mm)

Slope

(%)

φ1.4×33

1.4

33

3

0.9-1.3

0.39-3.96

18.5

47.5

----

φ1.6×36

1.6

36

4

1.2-1.9

0.26-2.63

22

52

----

φ1.8×45

1.8

45

4

1.9-2.4

0.16-1.62

30

78.2

----

φ1.9×39

1.9

39

4

1.65-3

0.29-2.93

30

77.59

----

φ2.0×40

2

40

3

2.5-4

0.23-2.26

37

119.1

----

φ2.2×45

2.2

45

3.5

3.4-5.4

0.21-2.44

45

128.3

---- 

φ2.5×40

2.5

40

3.5

9.0-10.5

0.44-2.44

55

149.61

----

φ2.5×50

2.5

50

3

6.25-7.4

0.62-1.86

55

187.37

----

φ2.5×54

2.5

54

3.5

6.9-8.5

0.48-1.45

55

196.29

----

φ2.7×42

2.7

42

3.5

10.0-11.0

0.10-1.52

55

198.5

----

φ2.8×44

2.8

44

3.5

12.5-13.5

0.437-2.18

55

201.58

suspension preheater

kiln

φ3.0×45

3

45

3.5

12.8-14.5

0.5-2.47

75

210.94

----

φ3.0×48

3

48

3.5

25.6-29.3

0.6-3.48

100

237

outside decomposition kiln

φ3.0×60

3

60

3.5

12.3-14.1

0.3-2

100

310

----

φ3.2×50

3.2

50

4

40.5-42

0.6-3

125

278

outside decomposition kiln
Send Message
Thank you for your interest in Kailide machine. Any of your comments or suggestions will be welcome to fill in the form of the following email via us.Please, or call +86-18903841927. Do not worry, we will not share your name, address or phone number with anyone. We love our company, and will do our best to help you. Thank you for taking the time to get in touch with us.   E-mail: mrjohnfan168@gmail.com   Tel: +86-18903841927