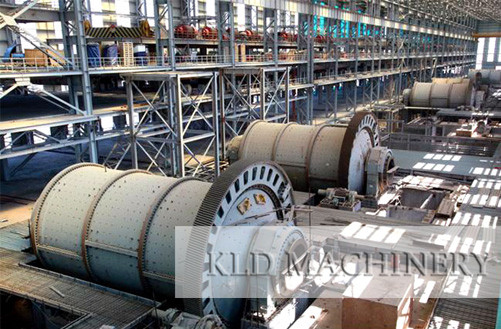 Grid ball mill
Cylinder speed:15-35r/min
Weight:12-156.5t
Capacity:1.4-50t/h
Motor power:45-1000kw
It is used in metallurgy,chemical industry,building materials,water conservancy,mining,construction industry,etc.
Introduction
Ball mill machine is the key equipment for recrushing the materials after they are primarily crushed, it is widely used in powder-making production line including cement
, silicate, new-type building material, refractory material, fertilizer, ore dressing of ferrous metal and non-ferrous metal, glass ceramics etc, The ore grinding methods of ball mill include dry type and wet type.
Working principle
Materials spirally and evenly go into the first cabin of the grinding machine through the feeding hollow shaft from the feeding device,
and inside the first cabin, there are ladder lining boards or ripple lining board in which there are many steel balls with different specifications.
The cylinder rotates and produces eccentric force to bring the steel balls to a certain height, and then the steel balls will fall down to
impact and grind the materials. After being coarsely ground in the first cabin, the materials will go through the single-layer partition board and into the secondary cabin in which there are flat lining board, and in the lining board there are
steel balls to further grind the materials. Finally the powdery materials will be discharged from the discharging grating bar to complete the powder grinding process.
1. Cylinder liner and grinding media can use a variety of materials, corrosion resistance is strong, and use is wide.
2.Grid ball mill adopts antifriction bearing instead of sliding bearings, which reduces friction and save consumption.
3.Discharging part adopts cone design, which can increase the volume, compels classification of steel ball, and makes the diameter of steel ball smaller, so that it can improve the precision of grinding.
4.We are original manufactory the price is reasonable and competitive,
5.Can be customized according to your requirement.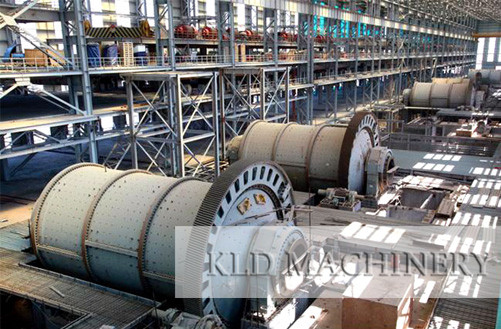 Model

Type

Capacity

(t/h)

Speed

(r/min)

Weight of ball

(t)

Power

(kw)

Main

speed reducer

Weight

(t)

MQG1245

1200×4500

1.4-2

35

5.2

45

ZD30

12

MQG1557

1500×5700

3.5-4.5

29

12.25

115

ZD40

23

MQG1864

1830×6400

5.5-6.4

24.23

18.5

155

ZD60

34.6

MQG1870

1830×7000

6-7

23.91

21

185

ZD60

36.5

MQG2265

2200×6500

14-15

21.4

31

380

ZD70

50

MQG2275

2200×7500

16-18

19

32.5

380

ZD70

63

MQG2470

2400×7000

26-30

17

38

475

ZD70

70.5

MQG3090

3000×9000

42-50

15

65

1000

ZD80

156.5
Send Message
Thank you for your interest in Kailide machine. Any of your comments or suggestions will be welcome to fill in the form of the following email via us.Please, or call +86-18903841927. Do not worry, we will not share your name, address or phone number with anyone. We love our company, and will do our best to help you. Thank you for taking the time to get in touch with us.   E-mail: mrjohnfan168@gmail.com   Tel: +86-18903841927