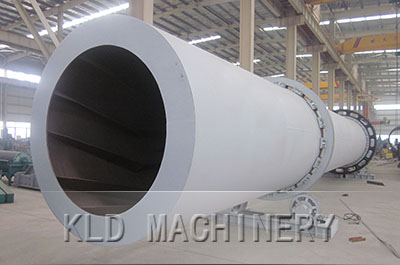 Fly ash dryer
Weight:9-135t
Production Capacity:1.9-76t/h
Main motor power:7.5-160kw
Fly ash dryer is suitable for drying granular,pasty,and powdery materials such as coal ash, semi-coke, lignite(wood coal),etc. It has special drying effect for coal ash, semi-coke
and lignite.
Working principle
The raw material plate is arranged conveniently to allow adjustable angle positions. The material to be dried is inserted to the rotary cylinder through the raw material plate. Hot air flows within the cylinder causing the separation of water from the material by converting it into vapor which is discharged into the atmosphere. At this point, the material becomes dry
Fly ash dryer is suitable for drying fine dust, waste residue in fly ash, phosphorus gypsum and titanium gypsum industry.
Powdery or granular fly ash is conveyed by loading device to the feeding device, and then to the rotary dryer; inside the dryer, the fly ash is lifted up and scattered by the evenly distributed lifting blades, which makes it possible for the hot air to dry the the fly ash to its most; dried fly ash is discharged from the discharging end of the dryer, and conveyed out by the unloading device; the whole drying process thusly comes to an end;
1.Low temperature and the lifespan of dust extraction is long.
2.Adopt new type multi-combined feeding device, and it can control moisture according to the need of customer
3.It has high adaptability to the materials so that it can be used for drying all kinds of materials
4.The product moisture can be controlled according to user requirements
5.the dryer can change operating parameters according to different material properties, with high quality and sufficient heat exchange
Model(m)
(Shell diameter*shell length)

Shell cubage
(m³)

Capacity
(t/h)

Gradient
(°)

Highest inlet air
temperature
(℃)

Main motor
power
(kw)

Weight
(t)

Φ1.2×8.0

9.0

1.9~2.4

3~5

700~800

7.5

9

Φ1.2×10

11.3

2.4~3.0

3~5

700~800

7.5

11

Φ1.5×12

21.2

4.5~5.7

3~5

700~800

15

18.5

Φ1.5×14

24.7

5.3~6.6

3~5

700~800

15

19.7

Φ1.5×15

26.5

5.7~7.1

3~5

700~800

15

20.5

Φ1.8×12

30.5

6.5~8.1

3~5

700~800

18.5

21.5

Φ1.8×14

35.6

7.6~9.5

3~5

700~800

18.5

23

Φ2.2×12

45.6

9.7~12.2

3~5

700~800

22

33.5

Φ2.2×14

53.2

11.4~14.2

3~5

700~800

22

36

Φ2.2×16

60.8

13.0~16.2

3~5

700~800

22

38

Φ2.4×14

63.3

13.5~16.9

3~5

700~800

37

45

Φ2.4×18

81.4

17.4~21.7

3~5

700~800

37

49

Φ2.4×20

90.4

19.3~24.1

3~5

700~800

45

54

Φ2.4×22

99.5

21.2~26.5

3~5

700~800

45

58

Φ2.6×24

127.4

27.4~34.0

3~5

700~800

55

73

Φ3.0×20

141.3

30.1~37.7

3~5

700~800

75

85

Φ3.0×25

176.6

37.7~47.1

3~5

700~800

75

95

Φ3.2×25

201

42.9~53.6

3~5

700~800

90

110

Φ3.6×28

285

60.8~76.0

3~5

700~800

160

135
Send Message
Thank you for your interest in Kailide machine. Any of your comments or suggestions will be welcome to fill in the form of the following email via us.Please, or call +86-18903841927. Do not worry, we will not share your name, address or phone number with anyone. We love our company, and will do our best to help you. Thank you for taking the time to get in touch with us.   E-mail: [email protected]   Tel: +86-18903841927