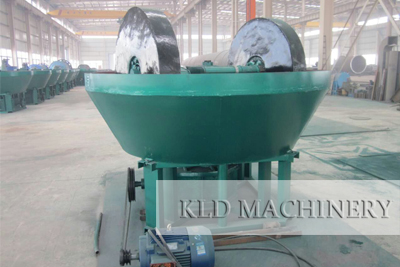 Wet Pan Mill
Input size:<25mm
Rotate Speed:13-22r/min
Powder:5.5-25kw
Weight:5-14.5t
Wet pan mill is widely used for selecting ferrous metals, nonferrous metals and nonmetals, as well as precious metals like gold and silver.
Introduction
The wet pan mill, also called gold grinding machine and the wheel grinding machine, is mainly used for crushing materials including
all kinds of ores and other materials in dry or wet way widely used in cement, silicate products, new building materials,
refractory materials, chemical fertilizer, non-ferrous metal and glass ceramics. Materials that can be crushed
by a ball mill can crushed by a grinding machine. The grinding machine is the ideal and efficient
device for ore dressing of small and medium-sized enterprises
with the advantages of convenient installation, less investment and production fee and high output.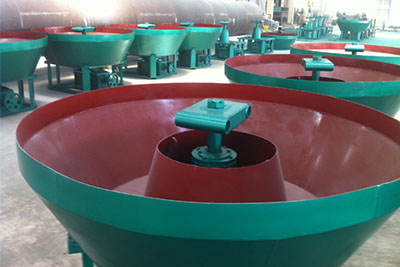 Working principle :

The driving force from generator to gearbox is transmitted by texrope, and drive texrope to crush so as to make the grinding roller rotate clockwise.
Raw materials in the water basin could be mixed up evenly with the rotation of the grinding roller. At the same time, the materials could be crushed
with the grinding between the grinding roller and the grinding millstone. After being crushed again and again to an set fineness, the materials flow with the water
1 .wet pan mill is a new energys aving grinding equipment designed by domestic processing machinery experts after
absorbing the newest grinding technology home and abroad. It not only improves the productivity and crushing ratio,
but also expand the application range. It performs an excellent job in secondary crushing, finely crushing and super finely crushing
2 .The grinding wheels mix up the ores and produce ore pulp while pressing and rubbing the ores.
3.The ores and water are evenly mixed, which makes the pulp density and other indexes stable.
Model
Specification
Input size
(mm)
Rotate Speed
(r/min)
Powder
(kw)
Weight
(t)
1600A
1600×400×200×500±20mm
20-22
25KW
14.5
1500A
1500×350×200×460±20mm
20-22
22KW
13.5
1500B
1500×350×150×460±20mm
20-22
22KW
12.3
1500C
1500×300×150×420±20mm
20-22
22KW
11.3
1400A
1400×250×150×350±20mm
16-18
18.5kw
8.5
1400B
1400×250×150×350±20mm
<25mm
21-23
18.5kw
8.5
1350A
1350×250×150×350±20mm
16-18
18.5kw
8
1350B
1350×250×150×350±20mm
21-23
18.5kw
8
1300A
1300×250×150×350±20mm
16-18
15kw
7.5
1300B
1300×250×150×350±20mm
21-23
15kw
7.5
1200A
1200×200×80×250±20mm
17-19
7.5kw
5.5
1200B
1200×200×80×250±20mm
23-25
7.5kw
5.5
1100A
1100×200×80×250±20mm
17-19
7.5kw
5
1100B
1100×200×80×250±20mm
23-25
7.5kw
5
1000
1000×200×80×250±20mm
13-15
5.5kw
4.5
Send Message
Thank you for your interest in Kailide machine. Any of your comments or suggestions will be welcome to fill in the form of the following email via us.Please, or call +86-18903841927. Do not worry, we will not share your name, address or phone number with anyone. We love our company, and will do our best to help you. Thank you for taking the time to get in touch with us.   E-mail: mrjohnfan168@gmail.com   Tel: +86-18903841927