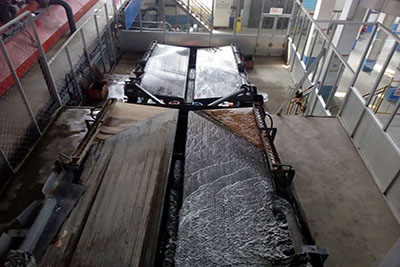 Shaking table
Capacity:0.5-1.2t/h
Shaking table which is one gravity separation machine can be widely applied in separating minerals, especially for separating gold and coal.Shaking table is mainly composed of bed head, electromotor, adjusting gradient device, bed surface, ore chute, water chute, rifle bar and lubricating system.It is widely applied in the classification of tin, tungsten, gold, silver, lead, zinc, iron, manganese, tantalum, niobium, titanium, etc.
Introduction
gold shaking table is widely used for sorting tungsten ore. Its main function is desulfurization sorting the rough and concentrate mixture after tungsten
ore gravity separating. (Such as rough concentrate sorted by jig and shaking table). Beneficiation particle size is ranging from 2mm to 0.074mm.
The separating effect is especially for tungsten ore with a variety of sulfide minerals. It has the following advantages compared with the gold table :
it is easy to observe changes of slurry on shaking table; easy to operate; it has many different specifications for choosing.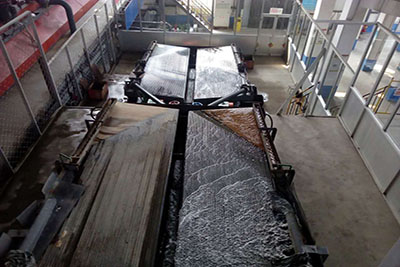 1.Characterized by high rich ore ratio, high separating efficiency. 2.Keep table surface operate balanced even though changing cross fall and stroke.
3.The shaking table consists of machine head, motor, adjustable slope structure, bed surface, feeding chute, water tank, bed strip and lubrication system.
4.The final concentrated ore and gangue can be obtained once.
5.Easiness to take charge and convenient adjustment.
| | | | |
| --- | --- | --- | --- |
| Specification | L-S(6-S) | Water quantity (t/h) | 0.4-0.8 |
| Stroke(mm) | 10-30 | Surface size of table(mm) | 152×1825×4500 |
| Times/min | 240-360 | Motor(kw) | 1.1 |
| Landscape angle(o) | 0-8 | Capacity (t/h) | 0.5-1.2 |
| Feed particle(mm) | 2-0.074 | Weight (kg) | 1012 |
| Feed ore density(%) | 15-30 | Overall dimensions (mm) | 5454×1825×1242 |
Send Message
Thank you for your interest in Kailide machine. Any of your comments or suggestions will be welcome to fill in the form of the following email via us.Please, or call +86-18903841927. Do not worry, we will not share your name, address or phone number with anyone. We love our company, and will do our best to help you. Thank you for taking the time to get in touch with us.   E-mail: mrjohnfan168@gmail.com   Tel: +86-18903841927