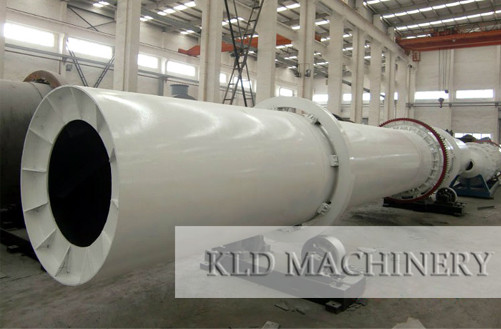 Slime dryer
Weight:9-135t
Production Capacity:1.9-76t/h
The slime dryer (also called the slime dryer machine, sludge dryer machine, slime drying equipment, sludge drying equipment, slime drying machine or sludge drying machine) are mainly used by the mining industry to dry materials such as slime, raw coal, peat, flotation clean coal, mixing clean coal and tailings.
Working Principle
Slime dryer is available for drying all kinds of coal, such as anthracite, lean coal, Mongolian coal, clean coal, nickel coal, coking coal, lignite, raw coal, soft coal, tail coal, middings coal, coal slime, fly ash, etc. The commonly used coal dryers are Mongolian coal dryer, coking coal dryer, raw coal dryer, nickel coal dryer, clean coal dryer, etc. Customers can choose the suitable type according to their actual needs.
Coal slime is of certain viscosity. In its drying process, the rotary dryer could be divided into the following working areas:1. Materials lead-in area: in this area, high -temperature hot air contacts wet coal slime, and the moisture in the slime evaporates; under the impact of big-obliquity lifting blades inside the dryer, the coal slime scatters and moves down to next working area;
2. Cleaning-up area: coal slime sticks to the dryer drum when it falls down after being lifted up by the lifting blades; in this area, there is cleaning-up device, which reasonably cleans up the sticky materials from the dryer drum; it also breaks up the lumps or pellets which are already formed by sticky slime; in this way, the cleaning-up device helps enlarge the heat transfer area of the slime and speed up the drying process;
3. Oblique lifting blades area: coal slime in this area is of loose condition with low moisture; and there will be no adhesion phenomena; after being dried by the hot air, the coal slime reaches the ideal condition, and moves to the discharging area;
4. Discharging area: there are no lifting blades in this area; dried coal slime rolls and slides from this area to the discharging mouth to be discharged; the whole drying process thusly comes to an end;
  1.Low temperature and the lifespan of dust extraction is long.
  2.Adopt new type multi-combined feeding device, and it can control moisture according to the need of customer.
  3.High degree automation and easy operation and stable movement.
  4.The investment of equipment is 1/6 of foreign products and income is fast.
  5.Adopt tug rotation and low rotating power.
  6.Compared with single-tube rotary dryer, floor area reduces 50% and electrical consumption is lower than 60%.
  7.The fuel is suited for coal, oil and steam.
Model(m)
(Shell diameter*shell length)

Shell cubage
(m3)

Capacity
(t/h)

Gradient
(°)

Highest inlet air
temperature
(℃)

Main motor
power
(kw)

Weight
(t)

Φ1.2×8.0

9.0

1.9~2.4

3~5

700~800

7.5

9

Φ1.2×10

11.3

2.4~3.0

3~5

700~800

7.5

11

Φ1.5×12

21.2

4.5~5.7

3~5

700~800

15

18.5

Φ1.5×14

24.7

5.3~6.6

3~5

700~800

15

19.7

Φ1.5×15

26.5

5.7~7.1

3~5

700~800

15

20.5

Φ1.8×12

30.5

6.5~8.1

3~5

700~800

18.5

21.5

Φ1.8×14

35.6

7.6~9.5

3~5

700~800

18.5

23

Φ2.2×12

45.6

9.7~12.2

3~5

700~800

22

33.5

Φ2.2×14

53.2

11.4~14.2

3~5

700~800

22

36

Φ2.2×16

60.8

13.0~16.2

3~5

700~800

22

38

Φ2.4×14

63.3

13.5~16.9

3~5

700~800

37

45

Φ2.4×18

81.4

17.4~21.7

3~5

700~800

37

49

Φ2.4×20

90.4

19.3~24.1

3~5

700~800

45

54

Φ2.4×22

99.5

21.2~26.5

3~5

700~800

45

58

Φ2.6×24

127.4

27.4~34.0

3~5

700~800

55

73

Φ3.0×20

141.3

30.1~37.7

3~5

700~800

75

85

Φ3.0×25

176.6

37.7~47.1

3~5

700~800

75

95

Φ3.2×25

201

42.9~53.6

3~5

700~800

90

110

Φ3.6×28

285

60.8~76.0

3~5

700~800

160

135
Send Message
Thank you for your interest in Kailide machine. Any of your comments or suggestions will be welcome to fill in the form of the following email via us.Please, or call +86-18903841927. Do not worry, we will not share your name, address or phone number with anyone. We love our company, and will do our best to help you. Thank you for taking the time to get in touch with us.   E-mail: mrjohnfan168@gmail.com   Tel: +86-18903841927