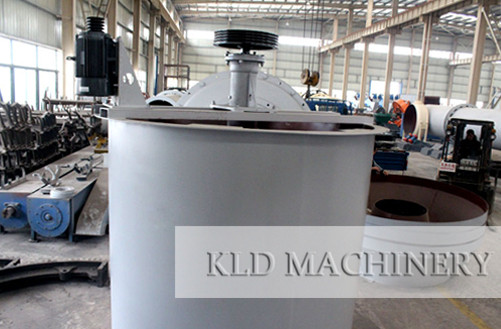 Mineral agitation barrel
Internal size of trough/Height:1000-3000mm
Weight:685-4296kw
Mineral agitation barrel is mainly used to mix slurry before flotation in the beneficiation process. It can mix drug and slurry completely. It is suitable to mix slurry with density smaller than 30 % (weight ratio) and size smaller than 1mm. This machine can increase reaction time and strengthen reaction quality of the drug.
Introduction
Mineral agitation barrel is the necessary equipment which mixes the drug and pulp to add the reaction time of chemical agent and strengthen drug reaction quality. It is suitable for ore dressing and all kinds of mixing operations in chemical industry. Mineral agitation barrel is suitable for all kinds of metal ore, which is mainly used for mixing before flotation. It can make the pharmacy and slurry fully mixed, which can also be used for stirring other non-metallic minerals. Mixer is suitable for the material with not more than 30% concentration (by weight) and fixed components size less than 1mm. Due to the properties of mixer, it also can be called stirring tank, mineral mixing barrel and agitation vat.
Working principle:
When the machine work , by the rotation of the impeller, the pulp and pharmaceutical take circular motion , so that get mixed evenly in the whole tank ,and the mixed suspension liquid discharges from the overflow part.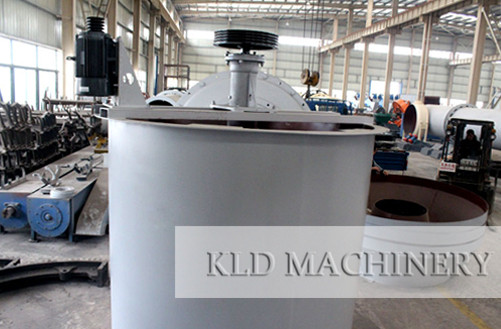 1. Reasonable structure; good sealing; low rate of left dust.
  2. The pulp stirs well; the blender blade is fan-shaped, which enlarges its contact area with the agent.
  3. Spray head is designed with multi-rows and the water quantity is adjustable.
  4. Advanced design; reliable final product quality;it stirs well and discharges materials promptly.
Internal size of trough
Effective volume
(m³)
Stirrer
Motor
Overall dimension
Weight
(kg)
Diameter
(mm)
Height
(mm)
Diameter
(mm)
Rotation speed
(r/min)
Model
Power
(kw)
Total height
(mm)
Max length
(mm)
1000
1000
0.58
240
530
Y100L-6
1.5
1665
1300
685
1500
1500
2.2
400
320
Y132S-6
3
2386
1600
861
2000
2000
5.6
550
230
Y132ml-6
4
3046
2381
1240
2500
2500
11.2
625
230
Y160M-6
7.5
3546
2881
3462
3000
3000
19.1
700
210
Y200L2-8
22
4325
3266
4296
Send Message
Thank you for your interest in Kailide machine. Any of your comments or suggestions will be welcome to fill in the form of the following email via us.Please, or call +86-18903841927. Do not worry, we will not share your name, address or phone number with anyone. We love our company, and will do our best to help you. Thank you for taking the time to get in touch with us.   E-mail: mrjohnfan168@gmail.com   Tel: +86-18903841927