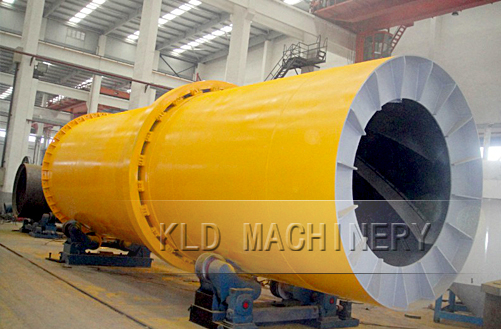 Sludge Dryer
Weight:9-135t
Production Capacity:1.9-76t/h
Sludge dryer produced by Kailide Machinery is mainly used for dehydrating and drying sludge, thus reducing the water content and volume of sludge. It has many advantages such as strong adaptability, high heat utilization rate, uniform drying effect, fewer clean-up times, convenient maintenance, etc.
Introduction
Rotary dryer can dry many kinds of materials which contain moisture, such as coal, coal slurry, slag, industrial waste, and clay stone. Rotary dryer are widely used in building materials,
metallurgy, and chemical industry. Rotary dryer is handling by bringing it into direct contact with a heated gas. The dryer is made up of a large, rotating cylindrical tube,the dryer slopes
so that the discharge end is lower than the material feed end in order to convey the material through the dryer.

Working Principle
Material to be dried enters the dryer, and as the dryer rotates, the material is lifted up by a series of internal fins lining the inner wall of the dryer.
When the material gets high enough to roll back off the fins, it falls back down to the bottom of the dryer, passing through the hot gas stream as
it falls. This gas stream can either be moving toward the discharge end from the feed end , or toward the feed end from the discharge end (known as counterurrent flow).
The gas stream can be made up of a mixture of air and combustion gases from a burner, in which case the dryer is called a direct heated dryer. Alternatively, the gas stream
may consist of air or another (sometimes inert) gas that is preheated. When the gas stream is preheated by some means where burner combustion gases do not enter the dryer, the dryer known as an indirect-heated type. Often, indirect heated dryers are used when product contamination is a concern.
Sludge is fed into the dryer by a feeding device through an oblique chute; as the dryer rotates, the sludge is lifted up and scattered by lifting blades, and hot air preheats and drys the sludge to a certain extent; when the sludge falls down to the grate type blades, it is dried by the hot blades; at the same time, the hot air drys the sludge when it is lifted up and down by the blades; also, the cleaning-up device inside breaks up the lumps or pellets which are already formed in this process; finally, dried and loose sludge is discharged from the discharging end as final products;
1). High dry capacity,mooth rotation.
2).Smooth rotation, stronger applicability ,easyoperation.
3). Overload resistance, large processing capacity, and low drying cost.
4). High efficiency radiator, and with reasonable guide operation, make hot air directly and material contact, greatly improve the drying efficiency
Model(m)
(Shell diameter*shell length)

Shell cubage
(m3)

Capacity
(t/h)

Gradient
(°)

Highest inlet air
temperature
(℃)

Main motor
power
(kw)

Weight
(t)

Φ1.2×8.0

9.0

1.9~2.4

3~5

700~800

7.5

9

Φ1.2×10

11.3

2.4~3.0

3~5

700~800

7.5

11

Φ1.5×12

21.2

4.5~5.7

3~5

700~800

15

18.5

Φ1.5×14

24.7

5.3~6.6

3~5

700~800

15

19.7

Φ1.5×15

26.5

5.7~7.1

3~5

700~800

15

20.5

Φ1.8×12

30.5

6.5~8.1

3~5

700~800

18.5

21.5

Φ1.8×14

35.6

7.6~9.5

3~5

700~800

18.5

23

Φ2.2×12

45.6

9.7~12.2

3~5

700~800

22

33.5

Φ2.2×14

53.2

11.4~14.2

3~5

700~800

22

36

Φ2.2×16

60.8

13.0~16.2

3~5

700~800

22

38

Φ2.4×14

63.3

13.5~16.9

3~5

700~800

37

45

Φ2.4×18

81.4

17.4~21.7

3~5

700~800

37

49

Φ2.4×20

90.4

19.3~24.1

3~5

700~800

45

54

Φ2.4×22

99.5

21.2~26.5

3~5

700~800

45

58

Φ2.6×24

127.4

27.4~34.0

3~5

700~800

55

73

Φ3.0×20

141.3

30.1~37.7

3~5

700~800

75

85

Φ3.0×25

176.6

37.7~47.1

3~5

700~800

75

95

Φ3.2×25

201

42.9~53.6

3~5

700~800

90

110

Φ3.6×28

285

60.8~76.0

3~5

700~800

160

135
Send Message
Thank you for your interest in Kailide machine. Any of your comments or suggestions will be welcome to fill in the form of the following email via us.Please, or call +86-18903841927. Do not worry, we will not share your name, address or phone number with anyone. We love our company, and will do our best to help you. Thank you for taking the time to get in touch with us.   E-mail: mrjohnfan168@gmail.com   Tel: +86-18903841927