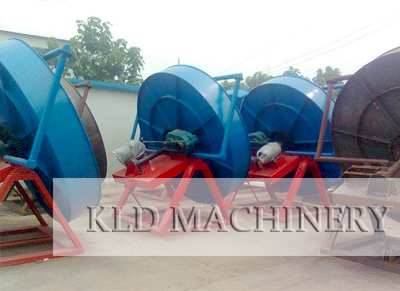 Pelletizer
Capacity:4-24t/h
Weight:2.85-6.51t
The pelletizer is also called disc granulator. Its whole disc is of circular structure and the pelletizing rate can reach 93%. It has three discharging mouths to reduce the labor intensity and improve efficiency. The reducer and motor are connected by the flexible belt. With less impact force, the machine is of longer service life. Its disc bottom adopt mutiple steel plate firm, durable, not deforming.
Introduction
The granulation rate is more than 93%. There are three discharging ports in pelletizer, which is convenient for discontinuous production, reduces laboring strength, and improves production efficiency. Reduction gears and motor rotate by flexible belts, which can reduce impact, start steadily and prolong serving life. Pan bottom of it uses steel plate which is sturdy and durable. Thicker, heavier and solid base design need not use bolts to fix.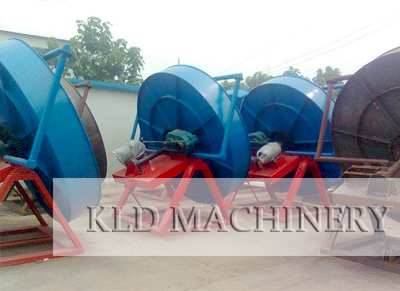 Working principle:
All kinds of dry materials enter into the pelletizer from the roof of it, and then are transported to rabbet after degassing and compressing. Then the two rollers rotate towards opposite directions with a same speed, and press the materials. Materials enter into grain making machine naturally because of gravity and tension. After that, the materials will be transported to vibrating screen to be separated. At last, the qualified products will be transported to finished product warehouse or be parked directly. The unqualified materials will come back to feeder machine and be re-crushed. You can adjust the hydraulic system to adjust the pressing force according to the size and strength of the materials. Besides, adjusting the shape of roller surface slot can get different shapes of materials such as, sheet, strip, olive-shaped, flat globular.
  1. It consists of big disc, big gear, transmission part, frame, base, scraper support and scraper, and etc.
  2. It is of novel design, light weight and proper height.
  3. The slope of big disc is to adjusted as angle spacer is used.
  4. Unique un-powered scraper is used to help reduce the power consumption.
Model

(m)

Speed of disc

(r/min)

Capacity

(t/h)

Power

(kw)

Adjustable scope (°)

Weight

(t)

Φ2.2
14.25
4-8
Y7.5
35-55
2.85
Φ2.5
11.81
5-10
7.5
35-55
3.25
Φ2.8
11.21
12-16
Y7.5
35-55
3.71
Φ3.0
11.3
15-18
Y11
35-55
4.35
Φ3.2
9.6
15-20
Y11
35-55
5.11
Φ3.6
9.1
18-24
Y15
35-55
6.51
Send Message
Thank you for your interest in Kailide machine. Any of your comments or suggestions will be welcome to fill in the form of the following email via us.Please, or call +86-18903841927. Do not worry, we will not share your name, address or phone number with anyone. We love our company, and will do our best to help you. Thank you for taking the time to get in touch with us.   E-mail: mrjohnfan168@gmail.com   Tel: +86-18903841927