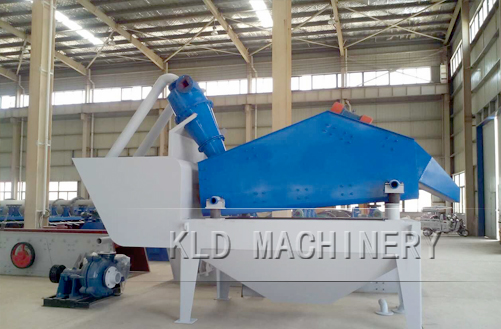 Fine sand recycling machine
Production capacity:30-600m³/h
Weight:3945-19680kg
Size:2.5-10''
Power:11-75kg
Recovery is widely used in the purification of fine sand mud, sand and gravel aggregates recycling issues hydropower systems, glass raw materials processing systems.
Introduction
Fine sand recycling machine is a fine sand extraction device which designed by absorbing foreign advanced technology according to the features of sand powder. It is formed by motor, slurry pump, cyclone ZKR linear vibrating screen, purge tank, refeed bin,etc. This machine is widely used in hydropower station sand aggregate processing system, glass raw material processing system, artificial sand production line, coarse coal slime recovery of coal preparation plant, concentrator tailings recycling and environmental protection engineering (mud purification) and so on, which can effectively solve the problem of fine sand recycling.

Working principle
The working process is as follows: sand and water mixture is sent to the hydrocyclones by slurry pump, fine sand concentrated by centrifugal grading enrichment process goes to virbrating screen through underflow exit. After dehydration, fine sand separates from water, a little sand and mud goes back to the purge tank via refeed bin and when the liquid is at a high level, it overflows to the outlet. Material wight concentration recycled by linear vibrating screen is 70%-85%. The fineness can be adjusted by changing the pump revolving speed, mortar, water volume and the size of sand outlet mouth. So that to complete the three process of washing, dehydrating and grading.
  1.Vibrating screen adopts Polyurethane screen mesh, which has long lifetime and is not easy to block up the hole.
  2.The inner part of swirler has polyurethane, which improves the lifetime of whole equipment, and finish slurry concentrator and fluide clarifiant.
  3.Fine sand recovery system can recover 85% of the whole fine particle, and has technological and economical advantages.
  4.The fine particle can recover abundantly and reduce the work of settling pond and lower the cost of clearing the pond.
  5.Fine sand recovery system can lower time of natural settling sand and provide the market.
  6.We can design the project according to the customer's need.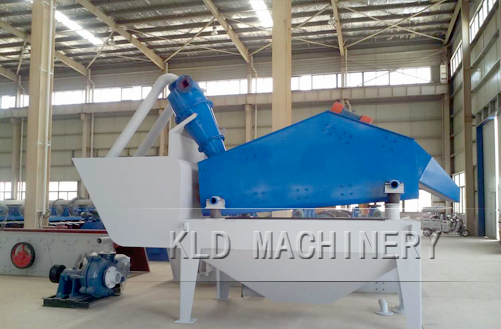 Model
Cyclone
Specifications(mm)
Capacity
(m³/h)
Pump
Dewatering screen
Weight
(kg)
Power(kw)
Size(inch)
Model
Area(㎡)
Power(kw)
KLD-06-300
300
30-80
11kw
2.5''
06x2.25
1.35
2x1
3945
KLD-08-300
300
40-100
15kw
3''
08x2.25
1.8
2x1.5
4200
KLD-10-350
350
70-130
18.5kw
3''
10x2.25
.25
2x1.5
4900
KLD-12-550
550
100-220
22kw
4''
12x3.0
3.6
2x3.0
7515
KLD-12-650
650
120-272
30kw
5''
12x3.0
3.6
2x3.0
7833
KLD-14-750
750
180-350
37kw
6''
14x3.0
4.2
2x3.0
9610
KLD-14-750Ⅱ
750
230-430
45kw
6''
14x3.75
5.25
2x5.5
11850
KLD-16-900
900
250-500
55kw
8''
16x3.75
5.25
2x5.5
14300
KLD--16-650
2*650
300-500
55kw
10''
18x3.75
6.00
2x5.5
16700
KLD-18-750
2*750
400-600
75kw
10''
18x3.75
6.75
2x7.5
19680
Send Message
Thank you for your interest in Kailide machine. Any of your comments or suggestions will be welcome to fill in the form of the following email via us.Please, or call +86-18903841927. Do not worry, we will not share your name, address or phone number with anyone. We love our company, and will do our best to help you. Thank you for taking the time to get in touch with us.   E-mail: mrjohnfan168@gmail.com   Tel: +86-18903841927