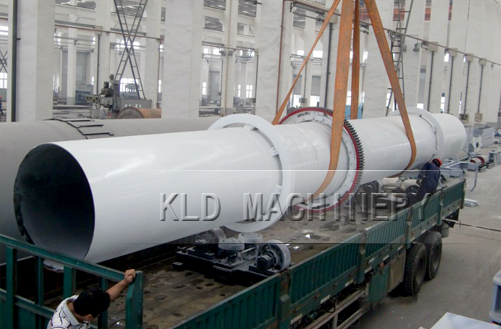 Mining dryer
Weight:9-135t
Production Capacity:1.9-76t/h
Mining dryer is a rotary dryer made up of the rotary drum, induced air device, high speed scattering device, lifting plate, self-cleaning and transmission installation devices, receiving device, blast heater, reducer, and supporting and sealing installation devices etc. It is commonly used to dry slag, carbide slag, limestone, clay, river sand, quartz sand and granulating slag in the industries of construction material, metallurgy, ore beneficiation, chemical engineering and cement production.
Working Principle
How it works: Inside the dryer, the orderly arranged lifting blades scatter the wet materials around and make them fully contacted with the co-current hot air, which speed up this drying process. Under the force of oblique blades and hot-air flow, materials inside the dryer move from the feeding end to the star type discharging end, and are discharged as final product.
  1.Mineral dryer adopts multi-combined feeding device, which overcomes wind tunnel phenomenon, has high heat efficiency, and reduces 20% of coal consumption.
  2. It is suited for various combustion furnace, such as high temperature kiln, grinding powder spraying furnace, and coal stove.
  3. Instead of traditional cast steel wheel, it can save cost, and reduce maintenance time and money. Simple structure, big capacity, easy maintenance, and it is suited for dry particle.
Model(m)
(Shell diameter*shell length)

Shell cubage
(m³)

Capacity
(t/h)

Gradient
(°)

Highest inlet air
temperature
(℃)

Main motor
power
(kw)

Weight
(t)

Φ1.2×8.0

9.0

1.9~2.4

3~5

700~800

7.5

9

Φ1.2×10

11.3

2.4~3.0

3~5

700~800

7.5

11

Φ1.5×12

21.2

4.5~5.7

3~5

700~800

15

18.5

Φ1.5×14

24.7

5.3~6.6

3~5

700~800

15

19.7

Φ1.5×15

26.5

5.7~7.1

3~5

700~800

15

20.5

Φ1.8×12

30.5

6.5~8.1

3~5

700~800

18.5

21.5

Φ1.8×14

35.6

7.6~9.5

3~5

700~800

18.5

23

Φ2.2×12

45.6

9.7~12.2

3~5

700~800

22

33.5

Φ2.2×14

53.2

11.4~14.2

3~5

700~800

22

36

Φ2.2×16

60.8

13.0~16.2

3~5

700~800

22

38

Φ2.4×14

63.3

13.5~16.9

3~5

700~800

37

45

Φ2.4×18

81.4

17.4~21.7

3~5

700~800

37

49

Φ2.4×20

90.4

19.3~24.1

3~5

700~800

45

54

Φ2.4×22

99.5

21.2~26.5

3~5

700~800

45

58

Φ2.6×24

127.4

27.4~34.0

3~5

700~800

55

73

Φ3.0×20

141.3

30.1~37.7

3~5

700~800

75

85

Φ3.0×25

176.6

37.7~47.1

3~5

700~800

75

95

Φ3.2×25

201

42.9~53.6

3~5

700~800

90

110

Φ3.6×28

285

60.8~76.0

3~5

700~800

160

135
Send Message
Thank you for your interest in Kailide machine. Any of your comments or suggestions will be welcome to fill in the form of the following email via us.Please, or call +86-18903841927. Do not worry, we will not share your name, address or phone number with anyone. We love our company, and will do our best to help you. Thank you for taking the time to get in touch with us.   E-mail: mrjohnfan168@gmail.com   Tel: +86-18903841927