Cone Crusher
Production capacity:15-1000t/h
Feeding size:55-280mm
Power:50-300mm
Weight:11.2-81t
Cone crusher is suitable to crush various kinds of ores and rocks of medium or above medium hardness in mining industry, construction, road, etc.
Introduction
Product Introduction of Cone Crusher
The cone crusher is used for the crushing of raw materials in metallurgy, architecture, road construction, chemistry, and silicate industry which can Grind the mid-hard ore and rock. Cone crushers adapt to medium and fine size ore and rock with large crushing ratio, high efficiency, low energy consumption, even particle size.
Working principle
The materiel will be delivered to the crushing chamber through the feed hopper at the top and the crushed material will be collected at the discharge hopper at the bottom of the machine.
And The materiel will be crushed inside by the moving cone and the bowl liner, guiding by the main shaft. Piston is moving up and
down by the oil pusher who comes by the oil station to give easy moving and good result.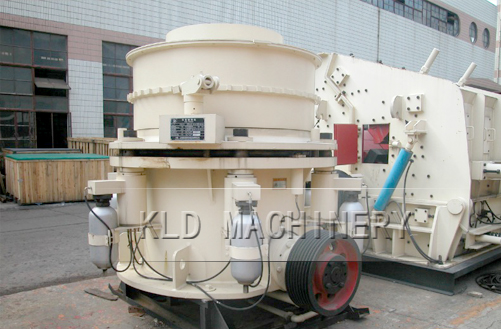 1. Good product particle shape and the wear-part is very little, and the operating cost is very low.
2.Lamination crush and the finished product is very good
3 .Wide range of application.
4.High output, low use-cost, compacted structure, easy operation, less maintenance and high utilization rate.
Type
Diameter of
cylinder
(mm)
Feeding size
(mm)
Adjustment range of output size
(mm)
Capacity
(t/h)
Rotation speed
(r/min)
Power
(kw)
Overall size
(mm)
Weight
(t)
PYB900
900
115
15-50
50-90
333
55
2692*1640*2350
11.2
PYZ900
900
60
5-20
20-65
333
55
2692*1640*2350
11.2
PYD900
900
50
3-13
15-50
333
55
2692*1640*2350
11.3
PYB1200
1200
145
20-50
110-168
300
110
2790*1878*2844
24.7
PYZ1200
1200
100
8-25
42-135
300
110
2790*1878*2844
25
PYD1200
1200
50
3-15
18-105
300
110
2790*1878*2844
25.3
PYB1200
1750
215
25-50
280-480
245
160
3910*2894*3809
50.3
PYZ1200
1750
185
10-30
115-320
245
160
3910*2894*3809
50.3
PYD1200
1750
85
5-13
75-230
245
160
3910*2894*3809
50.2
PYB1200
2200
300
30-60
59-1000
220
260-280
4622*3302*4470
80
PYZ1200
2200
230
10-30
200-580
220
260-280
4622*3302*4470
80
PYD1200
2200
100
5-15
120-340
220
260-280
4622*3302*4470
81
Send Message
Thank you for your interest in Kailide machine. Any of your comments or suggestions will be welcome to fill in the form of the following email via us.Please, or call +86-18903841927. Do not worry, we will not share your name, address or phone number with anyone. We love our company, and will do our best to help you. Thank you for taking the time to get in touch with us.   E-mail: mrjohnfan168@gmail.com   Tel: +86-18903841927