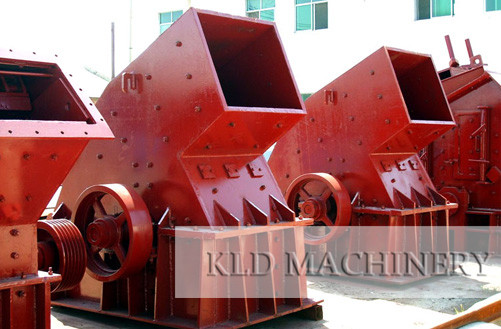 Hammer Crusher
Production capacity:5-200t/h
Feeding size:≤ 250mm
The hammer crusher is mainly used in such industries as cement, coal separation, electricity generation, building materials
and compound fertilizer. The hammer crusher can crush materials with different sizes into equal particle, which favors the next procedure.
The hammer crusher has the advantages of reliable mechanical structure, high productivity and favorable applicability.
Introduction
Hammer crusher is a single-stage crushing machine that can directly crush the materials whose maximum granularity is
600-1800 mm to 25 mm or below 25mm. Hammer crusher is one of the main equipments for medium crushing and fine
crushing the medium hardness materialssuch as metallurgical industry, chemical industry building materials industry and hydropower industry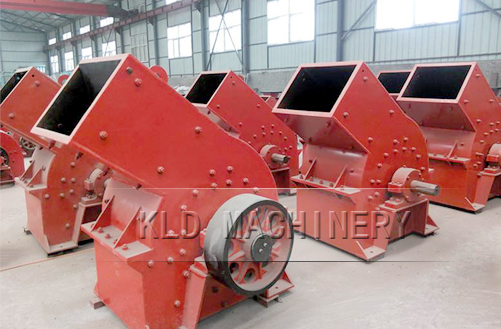 Working principle of hammer crusher
:
When the hammer crusher or hammer crushing machine works, the motor drives the rotor to spin at high speed, materials are fed into the crushing cavity evenly, and then be impacted, cut and tore by high speed spinning hammerhead till they are completely crushed. Meanwhile, the gravity action of materials forces them to crash the baffle and grate bars on the frame. Materials with particle size smaller than the screen size will pass the sieve plate while those with bigger particle size are stopped on the plate and will continue to be impacted and grounded by the hammer until they are crushed to the required particle size, finally, crushed materials will be discharged from the hammer crusher through the sieve plate
1.The hammer head is casted by new technology, which is very wear-resisting and impact resistance.
2. Can meet the requirement without a secondary crusher.
3. Lower investment cost, smaller particle size, energy saving widely application
4. simple structure,less wear-part and easy maintenance
5. Big capacity, cheaper price, Environment Friendly
Name
Max.feeding size
(mm)
Output size
(mm)
Capacity
(t/h)
Motor Power
(kw)
Weight
(kg)
PC400×300
≤100
≤10
5-10
11
800
PC600×400
≤120
≤15
10-25
18.5
1500
PC800×600
≤120
≤15
20-35
55
3100
PC1000×800
≤200
≤13
20-40
115
7900
PC1000×1000
≤200
≤15
30-80
132
8650
PC1300×1200
≤250
≤19
80-200
240
13600
Send Message
Thank you for your interest in Kailide machine. Any of your comments or suggestions will be welcome to fill in the form of the following email via us.Please, or call +86-18903841927. Do not worry, we will not share your name, address or phone number with anyone. We love our company, and will do our best to help you. Thank you for taking the time to get in touch with us.   E-mail: mrjohnfan168@gmail.com   Tel: +86-18903841927