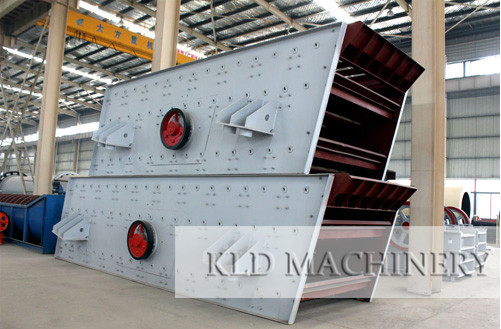 Circular vibrating screen
Production capacity:35-810t/h
Feeding size:200-400mm
Power:11-45kw
The vibrating screen moves in a circular motion with multiple layers and high efficiency. The vibrating screen is designed with the barrel type of eccentric shaft vibration exciter and eccentric block to adjust the swing. It is manufactured with long material screen rifling and many screen specifications.
Introduction
The circular vibrating screen is a high-efficiency and new-type vibrating screen featured by circular vibration and multi-layers This type of vibrating screen is specially designed for screening material stone of a quarry, and widely used for product classification in mining, building materials, transportation, energy, chemical products industries. So, it's a kind of ideal equipment used in the crushing and screening unit. If the screen with small boring diameter is installed, the wet and sticky material can not be screened unless the water spraying method is used.
Working principle:
he eccentric block of the exciter is driven by the motor via the triangle belt to rotate at high speed. The rotary eccentric blocks produce great centrifugal force which forces the screening box to move in circles with certain amplitude. Materials on the leaning screen surface are impacted to continuously do casting or throwing motions. Small particles pass through the screen holes of circular vibrating screen when meeting the screen surface, thus completing the separating process.
  1. Adopt block eccentric as exciting force, and it is very high.
  2. Adopt high strength bolts between beam and screening box, simple structure and easy maintenance.
  3. Adopt tire coupler and it is connected flexibility and the operation is stable.
  4. Adopt small amplitude, high frequency, and also big inclination, which makes that the machine has high efficiency, big capacity, long lifetime, low power and noise.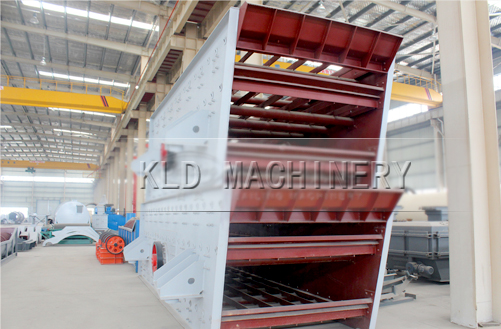 Model
Screen
layer
Screen
area
(m3)
Mesh
size
(mm)
Feeding
size
(mm)
Capacity
(m3/h)
Vibrating
frequency
(r/min)
Double
amplitude
(mm)

Power
(kw)
Dimension
(L×W×H)
Weight
(without motor)
(kg)
Screen
slope
(°)
Screen
specification
(mm)
2YK1245
2
5.4
5-50
200
35-206
970
7
11
4872×2610×2520
4320
15
1200×4500
3YK1245
3
5.4
5-50
200
35-206
970
8
11
5155×2686×3754
4460
20
1200×4500
YK1535
1
5.25
5-50
200
34-200
970
8
11
4684×2971×2404
3355
15
1500×3500
3YK1535
3
5.25
5-50
400
34-200
970
8
15
4719×3106×3273
5710
20
1500×3500
YK1545
1
6.75
5-50
400
44-258
970
8
11
4806×2911×2076
3900
20
1500×4500
2YK1545
2
6.75
5-50
400
44-258
970
8
15
4650×2820×3500
4370
20
1500×4500
3YK1545
3
6.75
5-50
400
44-258
970
8
15
5650×3000×3800
5832
15
1500×4500
3YK1548
3
7.2
5-50
400
47-275
970
7
15
5011×3986×2653
6070
20
1500×4800
4YK1548
4
7.2
5-100
200
47-275
730
8
18.5
4800×2947×4045
7090
20
1500×4800
YK1848
1
8.8
5-100
400
56-330
755
11
15
4904×3020×2943
7122
20
1800×4800
2YK1848
2
8.8
5-100
400
56-330
750
11
15
4802×3009×2860
6189
20
1830×4800
3YK1848
3
8.8
5-100
400
56-330
970
7
22
5066×3986×2969
6935
20
1800×4800
2YK1854
2
9.72
5-100
400
63-586
970
7
22
5200×3400×3911
7602
20
1800×5400
3YK1854
3
9.72
5-100
400
63-586
970
7
22
6200×3326×3593
8640
15
1800×5400
4YK1854
4
9.72
5-150
200
32-310
1216
8
30
5447×3417×4266
10530
15
1800×5400
YK2154
1
11.3
5-100
400
73-683
730
8
18.5
5400×3547×2750
5269
20
2100×5400
2YK2154
2
11.3
5-100
400
73-683
730
8
22
5400×3650×3856
7851
20
2100×5400
3YK2154
3
11.3
5-100
400
73-683
730
8
22
5590×3600×3900
9857
20
2100×5400
2YK2160
2
12.6
5-100
400
81-720
970
8
30
6375×3821×3707
9240
20
2100×6000
3YK2160
3
12.6
5-100
400
81-720
970
7
30
6453×3821×4907
12757
20
2100×6000
4YK2160
4
12.6
5-100
450
66-720
740
8
45
6455×4064.5×5367
15125
20
2100×6000
2YK2280
2
17.6
5-150
400
90-750
730
8
30
8000×3835×4747
10180
20
2200×8000
YK2460
1
14.4
5-150
400
150-810
730
8
22
6050×4035×3005
6200
20
2400×6000
2YK2460
2
14.4
5-150
400
150-810
730
8
30
6050×4035×4087
8013
20
2400×6000
3YK2460
3
14.4
5-150
200
450-650
740
8
37
6050×4234×4594
10762
20
2400×6000
4YK2460
4
14.4
5-150
200
450-650
740
8
45
6050×4266×5073
12786
20
2400×6000
Send Message
Thank you for your interest in Kailide machine. Any of your comments or suggestions will be welcome to fill in the form of the following email via us.Please, or call +86-18903841927. Do not worry, we will not share your name, address or phone number with anyone. We love our company, and will do our best to help you. Thank you for taking the time to get in touch with us.   E-mail: mrjohnfan168@gmail.com   Tel: +86-18903841927