Two-roller Crusher
Production capacity:5-50t/h
Feeding size:≤40
The series of 2-roller crusher can be applied in industrial sectors such as ore crushing ,chemical industry, cement, refractory, abrasive and construction industries to break ores and stones of high and medium rigidities, and particularly applied in the building material industry to produce pea gravel, which with better effect than ordinary crushers.
Introduction
Roller crusher is mainly applied in cement, metallurgy, chemical, electric power, coal and other industries for crushing various materials of medium hardness
like limestone, slag, coke, coal and other materials. It has simple structure, less phenomenon of over-crushing, and reliable operation.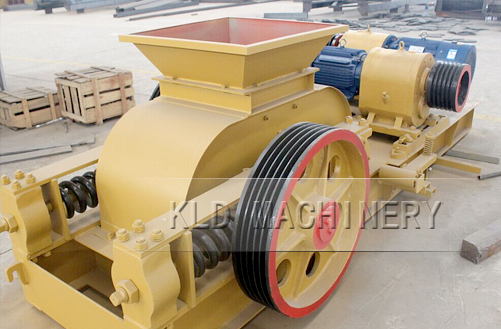 Working principle
When it works, the raw material is fed in and fall into the V type crushing cavity between the two crushing rollers and crushed into qualified sizes by te extruding
and cutting force of the two counter-rotating rollers, and then discharged from the outlet
1Simple structure, reliable operation;
2.The rotating device needs to install safety guard according to the real case.
3 Adjustable discharging size, and high economic benefits,
4 Low cost and less over-crushing phenomenon;
Type
Max Feeding Size
(mm)
Output Size
(mm)
Capacity
(t/h)
Power
(kw)
Weight
(kg)
2PG-400×250
≤25
1-8
5-10
11
1500
2PG-610×400
≤40
1-20
13-35
30
4500
2PG-750×500
≤40
2-20
15-40
37
12250
2PG-900×500
≤40
3-40
20-50
44
14000
Send Message
Thank you for your interest in Kailide machine. Any of your comments or suggestions will be welcome to fill in the form of the following email via us.Please, or call +86-18903841927. Do not worry, we will not share your name, address or phone number with anyone. We love our company, and will do our best to help you. Thank you for taking the time to get in touch with us.   E-mail: mrjohnfan168@gmail.com   Tel: +86-18903841927