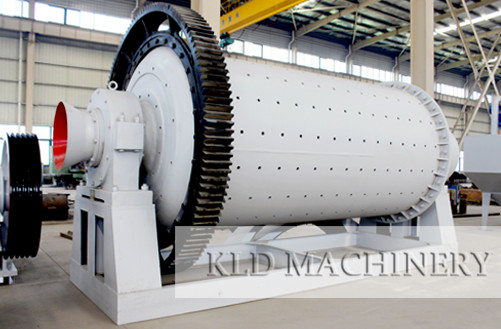 Overflow ball mill
Feeding size≤25mm
Capacity:0.65-90t/h
It is widely used in ore beneficiation plants, cement industry, refractory industry, chemical industry, etc.The overflow type ball mill is used to grinding materials in wet condition. Compared with dry process ball mill, the biggest difference is --- its end cover is cone shaped. On the end cover there is only one wave lining plate. The biggest advantage is that it can dress low grade magnetic iron ore with high-precision.
Introduction
overflow ball grinding mill is an efficient tool for fine powder grinding. Ball mill is often used for grinding silica sand. The overflow ball grinding mill is used to
grind many kinds of mine and other materials, or to select the mine. overflow ball grinding mill is widely used in building material, chemicalindustry, etc.
There are two ways of grinding: the dry way and the wet way. It can be divided into tabular type and flowing type according to different expelling mine.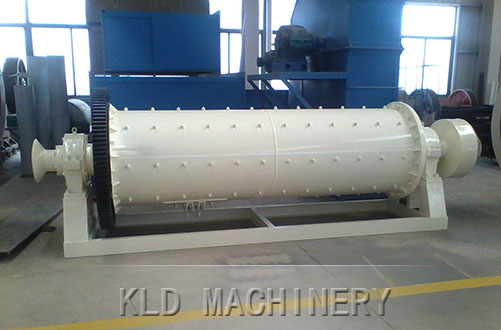 Working principle

The material to be ground is loaded into the Neoprene barrel that contains grinding media. As the barrel rotates, the material is crushed between the individual
pieces of grinding media that mix and crush the product into fine powder over a period of several hours. Obviously, the longer the ball mill runs,
the smaller the powder will be. Ultimate particle size depends entirely on how hard the ground material is, and how long the overflow ball grinding mill runs.
1. Easy and safe operation
2. Low invest, high return
3 .Stable performance
4 .Even product size
5 . Low energy consumption
Type
Cylinder speed
(r/min)
Weight
(t)
Feeding size
(mm)
Particle size
(mm)
Capacity
(t/h)

Motor power

(kw)
Weight
(t)
Ф900×1800
36~38
1.5
≤20
0.075-0.89
0.65-2
18.5
4.6
Ф900×3000
36
2.7
≤20
0.075-0.89
1.1-3.5
22
5.6
Ф1200×2400
36
3
≤25
0.075-0.6
1.5-4.8
30
12
Ф1200×3000
36
3.5
≤25
0.074-0.4
1.6-5
37
12.8
Ф1200×4500
32.4
5
≤25
0.074-0.4
1.6-5.8
55
13.8
Ф1500×3000
29.7
7.5
≤25
0.074-0.4
2-5
75
15.6
Ф1500×4500
27
11
≤25
0.074-0.4
3-6
110
21
Ф1500×5700
28
12
≤25
0.074-0.4
3.5-6
130
24.7
Ф1830×3000
25.4
11
≤25
0.074-0.4
4-10
130
28
Ф1830×4500
25.4
15
≤25
0.074-0.4
4.5-12
155
32
Ф1830×6400
24.1
21
≤25
0.074-0.4
6.5-15
210
34
Ф1830×7000
24.1
23
≤25
0.074-0.4
7.5-17
245
36
Ф2100×3000
23.7
15
≤25
0.074-0.4
6.5-36
155
34
Ф2100×4500
23.7
24
≤25
0.074-0.4
8-43
245
42
Ф2100×7000
23.7
26
≤25
0.074-0.4
8-48
280
50
Ф2200×4500
21.5
27
≤25
0.074-0.4
9-45
280
48.5
Ф2200×6500
21.7
35
≤25
0.074-0.4
14-26
380
52.8
Ф2200×7000
21.7
35
≤25
0.074-0.4
15-28
380
54
Ф2200×7500
21.7
35
≤25
0.074-0.4
15-30
380
56
Ф2400×3000
21
23
≤25
0.074-0.4
7-50
245
54
Ф2400×4500
21
30
≤25
0.074-0.4
8.5-60
320
65
Ф2700×4000
20.7
40
≤25
0.074-0.4
12-80
400
94
Ф2700×4500
20.7
48
≤25
0.074-0.4
12-90
430
102
Ф3200×4500
18
65
≤25
0.074-0.4
According to
technological
conditions
800
137
Send Message
Thank you for your interest in Kailide machine. Any of your comments or suggestions will be welcome to fill in the form of the following email via us.Please, or call +86-18903841927. Do not worry, we will not share your name, address or phone number with anyone. We love our company, and will do our best to help you. Thank you for taking the time to get in touch with us.   E-mail: mrjohnfan168@gmail.com   Tel: +86-18903841927