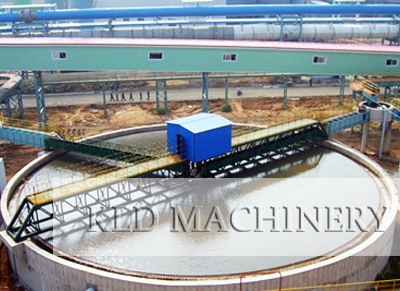 Thickener
Capacity:5.6-560t/h
Power:1.1-5.5kw
Pulp thickener is widely used for dehydration of the fine ore and gangue in beneficiation process in metallurgy, chemical industry, coal, non-metal beneficiation, and environmental-protection sectors and etc. It is a new-type dehydration equipment combined with the characteristics of pulp filter instead of a simple precipitation equipment.
Introduction
Thickener is suitable for dewatering treatment of concentrate and tailings on ore dressing plants, which can increase the 20-30% slurry to about 40-70%. Thickener is widely used in metallurgy, chemical industry, coal, non-metallic mineral processing, environmental protection and other industries. It is not the simple settlement equipment, but a new type of dewatering equipment which has mud layer filtration characteristics.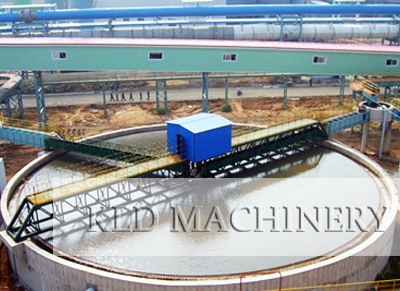 Working principle
:
Increasing the size of solid particle in pulp and subsidence area of concentrator can improve the working capacity of high efficiency concentrator. Adding flocculan to cohere fine materials together can increase the size of solid particles. Installing a hang plate in a common concentrator can increase its subsidence area. After that, decrease the subsidence distance between particles and improve its efficiency. In the same processing capacity, the diameter of high efficiency concentrator is as two thirds or one seconds times long as the common concentrator's. The floor space that high efficiency concentrator occupies is as one ninths or one fourths times big as the common one's. But the processing capacity can be improved several or dozes of times.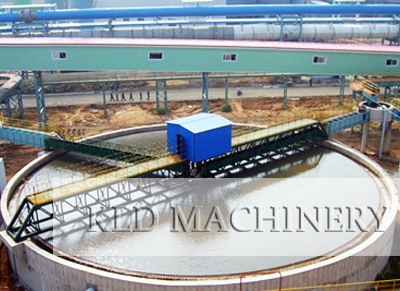 1. Add flocculant settlement increased the size of solid particles, thus accelerating the velocity.
  2. Shorten the installation tilt plate mineral particles from the settlement to increase the settlement area.
  3. Play a layer of thick mud deposition flocculation, filtration, compression and to handle the volume.
  4. Equipped with a complete-controlled facilities.
Model
Drive form
Concentrate
Capacity
(t/h)
Motor
Overall dimension (L*W*H)
(mm)
Diameter
(m)
Depth
(m)
Model
Power
(kw)
NZS-1
Center drive
1.8
1.8
5.6
Y90L-6
1.1
2000*1960*2900
NZS-3
Center drive
3.6
1.8
22.4
Y90L-6
1.1
3917*3787*3190
NZS-6
Center drive
6
3
62
Y100L2-4
3
6170*6170*5053
NZS-9
Round drive
9
3
140
Y132S-6
3
10000*10000*5337
NZS-12
Round drive
12
3.5
250
Y132S-6
3
15500*12000*6625
NZS-15
Round drive
15
3.5
390
Y132S-4
5.5
16545*15670*7017
NZS-18
18
3.5
560
Y132S-4
5.5
19742*18864*7047
NZS-15
15
3.5
390
Y132S-4
5.5
17000*15000*7000
NZS-18
18
3.5
560
Y132S-4
5.5
20000*18000*7000
Send Message
Thank you for your interest in Kailide machine. Any of your comments or suggestions will be welcome to fill in the form of the following email via us.Please, or call +86-18903841927. Do not worry, we will not share your name, address or phone number with anyone. We love our company, and will do our best to help you. Thank you for taking the time to get in touch with us.   E-mail: mrjohnfan168@gmail.com   Tel: +86-18903841927