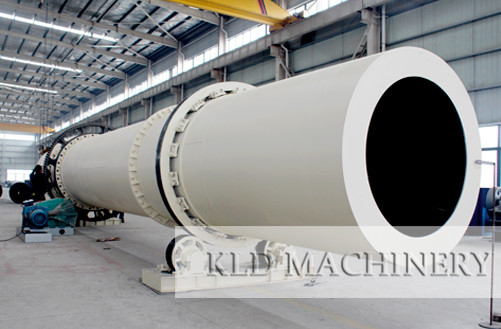 Sand dryer
Weight:9-135t
Production Capacity:1.9-76t/h
Sand dryer, also known as river sand dryer, yellow sand dryers, quartz sand dryer, is a kind of drying equipment to process large numbers of items, with reliable running, operating flexibility, adaptability, large capacity, etc. Sand drying machine is suitable for drying granular materials, especially sand, river sand, quartz sand,with excellent drying effect.
Introduction
Sand dryeIt mainly consists of rotary body, raw material feeding plate, driving and supporting device, etc. It is mainly used for cement, chemical,
metallurgical, building materials industries and We often use sand dryer to handle yellow sand in the dry powder mortar industry and common
sand in the casting industry. Different industries need dry materials with different water contents. The sand dryer machine can keep the
water content below 0.5%-1% which completely meets the industrial requirement.

Working principle
the raw materials plate which is arranged reasonably with changeable angles in order, throws moisture materials into the rotary cylinder.
Then water will be separated from the materials by hot air-flow and changed into vapour that ultimatly discharged into the atmosphere. Then the materials would be dryed.
Conveyed by belt conveyor or bucket elevator to the hopper, the sand comes into the feeding end of the dryer by a feeding device through a feeding pipe; the obliquity of the feeding pipe should be greater than that of the sand, so the sand can slip into the dryer easily; the wet sand and hot air can enter into the dryer from the same feeding end of the dryer, which is called co-current air flow drying process; or they can be fed into the dryer from different ends of the dryer, which is called count-current air flow drying process; as the dryer rotates, the sand inside moves forward from the feeding end (higher end) to the discharging end (lower end) of the dryer, and during this time, wet sand is being dried by the hot air; then dried materials are discharged and conveyed away by belt conveyor or screw conveyor.
1.Kailide Machinery has the first engineer of river sand dryer. The team guided by the engineer utilizes new technology into equipment. It can improve efficiency and lower the cost. 2 2.Kailide machinery chooses the best quality of suppliers and makes sure the lifetime of wear parts, so that we can reduce the cost.
3.Low energy consumption
4.Easy operation,high output and so on.
Model(m)
(Shell diameter*shell length)

Shell cubage
(m³)

Capacity
(t/h)

Gradient
(°)

Highest inlet air
temperature
(℃)

Main motor
power
(kw)

Weight
(t)

Φ1.2×8.0

9.0

1.9~2.4

3~5

700~800

7.5

9

Φ1.2×10

11.3

2.4~3.0

3~5

700~800

7.5

11

Φ1.5×12

21.2

4.5~5.7

3~5

700~800

15

18.5

Φ1.5×14

24.7

5.3~6.6

3~5

700~800

15

19.7

Φ1.5×15

26.5

5.7~7.1

3~5

700~800

15

20.5

Φ1.8×12

30.5

6.5~8.1

3~5

700~800

18.5

21.5

Φ1.8×14

35.6

7.6~9.5

3~5

700~800

18.5

23

Φ2.2×12

45.6

9.7~12.2

3~5

700~800

22

33.5

Φ2.2×14

53.2

11.4~14.2

3~5

700~800

22

36

Φ2.2×16

60.8

13.0~16.2

3~5

700~800

22

38

Φ2.4×14

63.3

13.5~16.9

3~5

700~800

37

45

Φ2.4×18

81.4

17.4~21.7

3~5

700~800

37

49

Φ2.4×20

90.4

19.3~24.1

3~5

700~800

45

54

Φ2.4×22

99.5

21.2~26.5

3~5

700~800

45

58

Φ2.6×24

127.4

27.4~34.0

3~5

700~800

55

73

Φ3.0×20

141.3

30.1~37.7

3~5

700~800

75

85

Φ3.0×25

176.6

37.7~47.1

3~5

700~800

75

95

Φ3.2×25

201

42.9~53.6

3~5

700~800

90

110

Φ3.6×28

285

60.8~76.0

3~5

700~800

160

135
Send Message
Thank you for your interest in Kailide machine. Any of your comments or suggestions will be welcome to fill in the form of the following email via us.Please, or call +86-18903841927. Do not worry, we will not share your name, address or phone number with anyone. We love our company, and will do our best to help you. Thank you for taking the time to get in touch with us.   E-mail: mrjohnfan168@gmail.com   Tel: +86-18903841927