VSI sand making machine
Production capacity:65-520t/h
Feeding size:<50mm
VSI sand making machine can process the following materials such as iron ore, copper ore, gold and silver ore, zinc, manganese, limestone, granite, basalt,
cobble, coal, quartz and so on, which is widely used in the fields including rocks, abrasive, refractory, cement clinker, quartz, iron ore and concrete aggregate, building materials and so on.
Introduction
It's the high—efficiency sand making equipment with advanced world levels in China. sand making machine can be used in Building aggregate, highway, asphalt
concrete and cement aggregate production. As well as stone reshaping production in water conservancy and hydropower engineering field,highway, railway
, bridge, passenger line, airport runway, municipal engineering and high-rise buildings
Working principle
materials fall into the crusher and are divided into two parts. One part goes into the high-speed-running impeller of the machine,
and the other part goes around the impeller. The two parts materials bump and crush fast during the effect of centrifugal force.
Then the materials run like swirl, bump and rub to each other again and again.The finished products go out from the bottom of the
machine, and users can get the requested products size after screening by vibrating screen
1. Large capacity and high yield, Compared with the same power equipment, its production increase 30 percent, and is relatively stable.
2. Low consumption of vulnerable parts.
3. Product grain shape excellent.
4. Hydraulic device, easy to maintain.
5. Automatic detection, safe and reliable.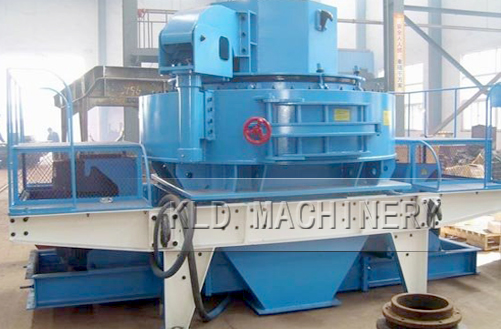 Model
Capacity (t/h)
Max Feed
Size (mm)
Rotation speed
(r/min)
Power for
double motor
(kW)
Overall
Dimension
L×W×H (mm)
Weight
(t)
Center and
Ring feeding
Center
feeding
Soft
material
Hard
material
VSI7611
120-190
65-95
35
30
1700-1900
55×2
3700×2150×2100
11.8
VSI8518
200-260
100-130
40
35
1520-1700
90×2
4140×2280×2425
14.5
VSI9526
300-380
150-190
45
40
1360-1500
132×2
4560×2447×2778
17.8
VSI1140
450-520
225-260
50
45
1180-1310
200×2
5000×2700×3300
25.6
Send Message
Thank you for your interest in Kailide machine. Any of your comments or suggestions will be welcome to fill in the form of the following email via us.Please, or call +86-18903841927. Do not worry, we will not share your name, address or phone number with anyone. We love our company, and will do our best to help you. Thank you for taking the time to get in touch with us.   E-mail: mrjohnfan168@gmail.com   Tel: +86-18903841927