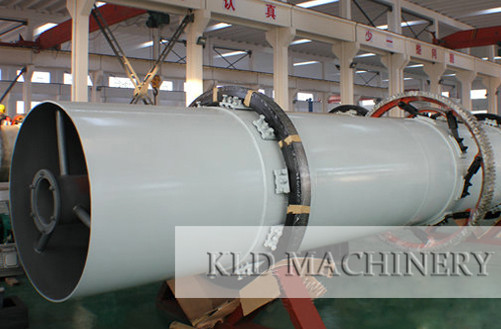 Indirect heat transfer dryer
Shell length:15-25m
Inside diameter of inner shell:500-900mm
Indirect heat transfer dryer refers to the way of drying by indirect heat conduction inside the dryer duct connection, mainly used for drying certain humidity and particle size range of particulate materials. Such as sand, sand, slag, cinders, small particle size clay, and other small particles of material is not afraid of high temperature and dust soiled. Built-in thermal piping use of stainless steel, the dryer 20--80% higher than the average drum drying equipment costs.
Principle
Material from the feed device into the inner rotary drum and achieve downstream drying, the material in the inner constantly took a copy board, scattered spiral traveling type heat exchange, material moves to the other end of the inner layer into the middle, countercurrent drying, the material is repeated constantly in the middle Yang Jin, was a step back two steps forward travel mode, both fully absorb the material in the middle inner cylinder the heat, and absorbing heat middle of the drum, while extending the drying time, the best material in this dry state.
  1.Economic drain of indirect heat dryer is 1/6 of abroad.
  2.Indirect heat dryer can make sure stoving degree and moisture of material.
  3.The thermal insulation of indirect heat dryer is best.
  4.Fuel is suited for coal, oil and steam, and dryer can provide below the 20mm of lump material, particle material and powder material.
  5.Compared with single drum dryer, it can reduce 50% of floor area and 60% of power consumption.
  6.We can control the moisture of material according to our customers.
  7.Low outlet temperature, and the lifespan of dust removal equipment is long.
  8.Indirect heat dryer rotates through tug, and save the personnel.
Diameter*
Length of shell
Inside diameter
of outer shell
(mm)
Inside diameter
of inner shell (mm)
Shell length
(m)
Volume
(m3)
Shell obliquity
(○)
Lifter form
Highest inlet
air temperature
(℃)
Dimensions
(m)
ф1.5×15m
ф1.5×17m
ф1.5×19m
1500
500
15
17
19
20.27
22.97
25.68
3-5
Lifting form
850
16.2×2.7×2.7
18.2×2.7×2.7
20.2×2.9×2.9
ф1.8×21m
ф1.8×23m
ф1.8×25m
1800
650
21
23
25
35.91
39.33
42.75
3-5
Lifting form
850
22.5×2.7×2.7
24.5×2.9×2.9
26.5×2.9×2.9
ф2.2×21m
ф2.2×23m
ф2.2×25m
2200
900
21
23
25
58.10
63.61
69.15
3-5
Lifting form
850
Send Message
Thank you for your interest in Kailide machine. Any of your comments or suggestions will be welcome to fill in the form of the following email via us.Please, or call +86-18903841927. Do not worry, we will not share your name, address or phone number with anyone. We love our company, and will do our best to help you. Thank you for taking the time to get in touch with us.   E-mail: mrjohnfan168@gmail.com   Tel: +86-18903841927