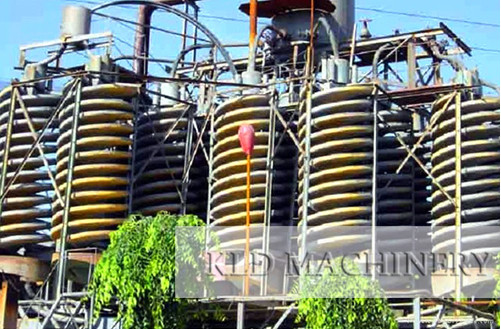 Spiral chute
Capacity:0.2-8t/h
Spiral chute is the highly efficient equipment for gravity separation, which has advanced technology both at home and abroad. It is suitable for separating 0.3--0.02 mm size fine minerals such as iron ore, titanium ore, chrome ore, pyrite, zircon, monazite, rutile, phosphorus ore, tungsten, tin, phosphorus B ore, niobium, tantalum ore as well as other non-ferrous metals, rare metals and non-metallic minerals with proportion differences.
Introduction
Spiral chute combines the characteristics of spiral separator, spiral chute, shaking table and centrifugal separator. It is the best equipment of mining and beneficiation machines, especially, used in the placer mining of waterfront, river, sand beach and creek road. Its structure is reasonable. Its installation is simple. It occupies less areas, it is easy to operate it. Its advantages are light in weight, moisture proof, and anti-rust, corrosive proof and no noise; properly suitable for different feeding particle sizes and grades.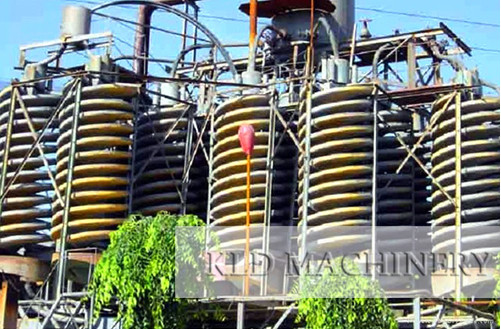 Working principle:
Keep the spiral standing, calibrate vertical line, and fix it on a suitable place by iron stand and wood. Bring ores to the two feeding ports on the head of spiral chute by sand pump. Add water. Adjust the destiny of ore pulp. The ore pulp will fall down because of gravity. A type of centrifugal force will product during this process. The ore and sand will be divided because of different weights, sizes and granularities by the force of gravity and centrifugal force. Concentrate will flow out though tube. Tailings will flow into the tailings bucket and then be discharged out by a pipe.
  1. The concentrates, middlings and tailings are separated at the tail end, and no washing water is added during the process.
  2. The spiral chute connected by the spiral piece is the main component.
  3. Its inner surface is covered by abrasion-resistant lining, which often refers to polyurethane wear-resistant rubber or epoxy resin mixed with artificial corundum.
  4. A wear-resistant layer of diabase powder is also added to the inner surface while fabricating the spiral chute.
  5. There are feeding evenness differentiator and feed chute at the upper end of the spiral chute, while the product intersecting chute, product gather bucket are at the tail end.
  6. The whole equipment is vertically supported by channel steel.
Model
Outsider Diamete
(mm)
Pitch of screw
(mm)
Rate
Gradient
(°)
Num Of threads
Num Of turns
Max feed size
(mm)
Mine density (mm)
Capacity
(t/h)
Area
(m2)
Height
(m)
DI2000
2000
1200
0.6
9
2-4
3.5
0.04-0.4
20-40
8-12
5,7
6-8
DI1500
1500
900
0.6
9
2-4
4
0.03-0.3
20-45
6-8
5,8
DI1200
1200
720
540
0.6
9
2-4
4-5
0.03-0.3
30-50
4-6
2
5,23
LI900
900
540
360
0.4
0.6
9
2-3
4-5
0.03-0.3
30-50
2-3
1,2
3.2-4.2
LI600
600
390
360
0.4
9
1-2
4-5
0.02-0.2
30-50
0.8-12
0.5
2.6
LI400
400
180
0.45
9
1-2
4-5
0.02-0.2
30-50
0.5-0.2
0.25
1.3
Send Message
Thank you for your interest in Kailide machine. Any of your comments or suggestions will be welcome to fill in the form of the following email via us.Please, or call +86-18903841927. Do not worry, we will not share your name, address or phone number with anyone. We love our company, and will do our best to help you. Thank you for taking the time to get in touch with us.   E-mail: mrjohnfan168@gmail.com   Tel: +86-18903841927