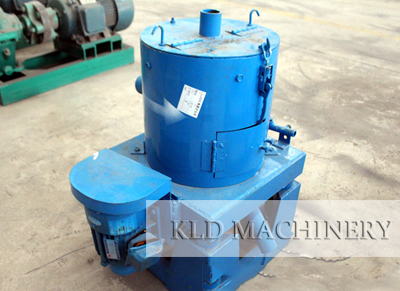 Gold centrifugal concentrator
Feeding Capacity:1-80t/h
Fluidization Water Required:1-25t/h
Gold centrifugal concentrator is known as centrifuge or centrifugal chute. Strong centrifugal force produced by high speed spin strengthens the process of gravity separation and effectively recover the ultrafine ore particles. Nowadays, centrifugal concentrator is widely used for the recovery of gold, tungsten, lead, manganese, iron, etc.
Introduction
It is an efficient equipment for recovering free gold in all particle size ranges, specially for recovery of fine gold which is lost during the operation of the gravitational concentrators(sluice boxes and jigs). It can be used not only for placer gold mining, but also for hard rock mining to recover the natural gold, replacing amalgamation, and recover gold from the old tailings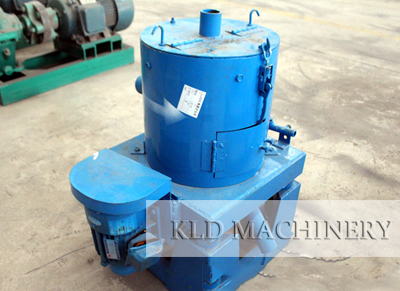 The main component parts of Centrifugal gold concentrator is consisted with Concentrating Cone, Slurry Feeding Pipe, Secure Concentrate Plug, Tailing Discharge Pipe, Concentrate Discharge Pipe, Fluidization Water Valve and Water Inlet.
Working principle
The motor works to transmit the v-belt, thus drive the shaft to make the equipment rotates at high speed. Through the ore feeding pipe,the equipment utilise the centrifugation to enhance the separation process.The concentrating minerals remain in the inner sleeve and discharge from the outlet after the equipment stops
1)99% High Recovery Rate
2)Low Investment & High Income
3)Low Maintenance , Labor Saving & Easy Operation
4)Discharge directly & automatically
5)Small land coverage and high automation.
Model
STLB20
STLB30
STLB60
STLB80
STLB100
Feeding Capacity
T/H
1-2
2-3
10-20
30-40
50-80
Fluidization Water Required
T/H
1-2
4-6
10-15
20-30
17-25
Pressure water
Mpa
0.05-0.1
0.1-0.2
0.1-0.2
0.1-0.2
0.1-0.3
Feeding Density
%
10-50
10-50
10-50
10-50
10-50
Feeding Size
mm
0-4
0-4
0-5
0-6
0-6
Bowl Cone Rotation Speed
r/min
800
600
480
400
360
Concentrate Weight
Kg
2-3
10-20
25-40
45-60
70-80
Motor Power Requirements
KW
0.75
1.5
4
11
18.5
Approximate Weight
Kg
160
600
1400
2200
3700
Approximate Dimensions
mm
940×700×1000
1200×1250×1250
1850×1550×1600
2000×1800×1900
2300×2000×2300
Send Message
Thank you for your interest in Kailide machine. Any of your comments or suggestions will be welcome to fill in the form of the following email via us.Please, or call +86-18903841927. Do not worry, we will not share your name, address or phone number with anyone. We love our company, and will do our best to help you. Thank you for taking the time to get in touch with us.   E-mail: mrjohnfan168@gmail.com   Tel: +86-18903841927