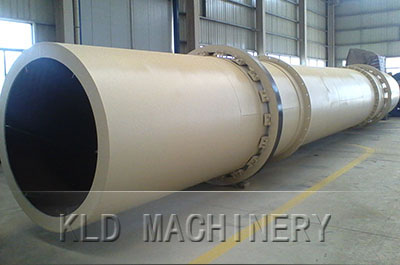 Rotary drum dryer
Weight:9-135t
Production Capacity:13-70t/h
Main motor power:7.5-160kw
Rotary drum dryer is suitable for drying sand, yellow sand, ore slags, etc, which is widely applied in construction, chemical engineering, casting industry. Coal, oil, gas, wood and others can be taken as fuel.
Principle
Materials are send to hopper of rotary dryer by belt conveyor or bucket elevator, the hot air move forward from the tail, then full access with materials,through heat conduction,convection and radiation heat transfer,then deliver the heat to materials directly,then the materials moisture content is evaporated constantly in the cylinder body,the wind device on the outlet take out a large number of moisture,wet,to prevent the second pollution caused by the dust discharging.Through the spiral stirring and shovelling plate to drive the material moved,until finish the whole drying proces
The raw materials are send to hopper by belt conveyor or bucket elevator firstly, and are send into feeding end by hopper feeder and feeding pipe. The feeding pipe slope is bigger enough to keep sure that the materials can be sent into dryer smoothly. The dryer cylinder is a rotary one which has some angels with horizonal line. Materials are fed into dryer from one end with heating-carrying agent, and pass through inner cylinder, middle cylinder and outer cylinder to output end and then to final product hopper. The dust carried by heat-carrying agent normally need to be collected by cyclone. To further reduce the dust content, it needs bag filter or wet dust collector. The dried products are sieved to get qualified size as final products.
1.Our dryer adopt reasonable parameters, consumption of coal and electricity will be 10-15% lower than common dryers. 2.Rotary dryer is used widely in various industries, and the color and shape of final product is very good. When the dryer is working, it keeps smooth and can dry material very fast, which obtains higher revenue.
3.Little malfunction, low maintenance cost and power consumption.
4.intelligent control The rotary dryer can control the temperature of barrel, and we can install thermometer at the feeding part, so that we can control the temperature of materials.
Model(m)
(Shell diameter*shell length)

Shell cubage
(m³)

Capacity
(t/h)

Gradient
(°)

Highest inlet air
temperature
(℃)

Main motor
power
(kw)

Weight
(t)

Φ1.2×8.0

9.0

1.9~2.4

3~5

700~800

7.5

9

Φ1.2×10

11.3

2.4~3.0

3~5

700~800

7.5

11

Φ1.5×12

21.2

4.5~5.7

3~5

700~800

15

18.5

Φ1.5×14

24.7

5.3~6.6

3~5

700~800

15

19.7

Φ1.5×15

26.5

5.7~7.1

3~5

700~800

15

20.5

Φ1.8×12

30.5

6.5~8.1

3~5

700~800

18.5

21.5

Φ1.8×14

35.6

7.6~9.5

3~5

700~800

18.5

23

Φ2.2×12

45.6

9.7~12.2

3~5

700~800

22

33.5

Φ2.2×14

53.2

11.4~14.2

3~5

700~800

22

36

Φ2.2×16

60.8

13.0~16.2

3~5

700~800

22

38

Φ2.4×14

63.3

13.5~16.9

3~5

700~800

37

45

Φ2.4×18

81.4

17.4~21.7

3~5

700~800

37

49

Φ2.4×20

90.4

19.3~24.1

3~5

700~800

45

54

Φ2.4×22

99.5

21.2~26.5

3~5

700~800

45

58

Φ2.6×24

127.4

27.4~34.0

3~5

700~800

55

73

Φ3.0×20

141.3

30.1~37.7

3~5

700~800

75

85

Φ3.0×25

176.6

37.7~47.1

3~5

700~800

75

95

Φ3.2×25

201

42.9~53.6

3~5

700~800

90

110

Φ3.6×28

285

60.8~76.0

3~5

700~800

160

135
Send Message
Thank you for your interest in Kailide machine. Any of your comments or suggestions will be welcome to fill in the form of the following email via us.Please, or call +86-18903841927. Do not worry, we will not share your name, address or phone number with anyone. We love our company, and will do our best to help you. Thank you for taking the time to get in touch with us.   E-mail: mrjohnfan168@gmail.com   Tel: +86-18903841927