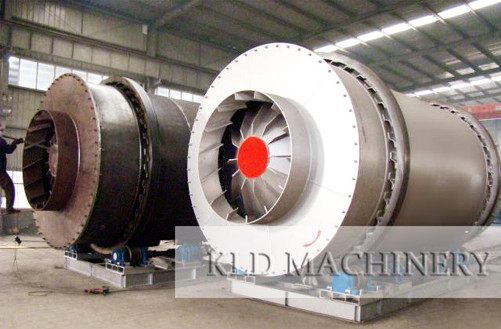 Three drum dryer
Production Capacity:13-70t/h
Three drum dryer is also called three-cylinder dryer, whose main body is composed of three concentric circles of different diameters in inlaid combination. It is mainly used for drying granular material with certain humidity and certain particle size range, such as sand, molding sand, slag, cinder, fine-grained clay, high temperature resistant and dusty particles. The moisture content can reach 5 - 15% after the drying process.
Working principle
Three drum dryer is widely used in building materials industry, metallurgy industry, ore dressing industry, chemical industry, cement and other industries. It is suitable for drying slag, limestone, quartz stone, clay, sand, coal, iron, slag and other admixture; dry mixed mortar, yellow sand and bentonite in construction industry; waste slag, concentrate and tailings in chemical industry; coal slime, raw coal, flotation coal concentrate and mixed coal in coal industry.

Wet materials are fed into the inner drum of the three drum dryer, scattered by the lifting blades, and dried by co-current hot air inside. When the materials move to the middle drum from the other end of the inner drum, they go against the hot air inside. In this process, the wet materials absorb the heat not only from the inner drum, but also from the counter-current hot air inside the middle drum. In this way, the optimum drying effect is achieved due to longer drying time.
  1.The investment of three-cylinder dryer is 1/6 of foreign products. We adopts alloy steel plate, more wear resist than traditional steel plate.
  2.Three drum dryer can dry 15% moisture of material into lower than 0.5-1%, which is used widely in the cement plant, super fine slag and dry-mixed mortar.
  3.Three drum dryer can improve 48% heat efficiency.
  4.Fuel is suited for anthracite, soft coal, gangue, oil, and steam. It can dry 20-40mm of lump material, particle material, powder material.
  5.Compared with single-cylinder dryer, three-cylinder dryer reduces 50% of floor area.
  6.We can adjust the moisture of final products.
  7.The temperature of outer barrel of dryer is only 60 ℃, exhaust gas temperature is lower than 100℃, dust removal equipment can use two times than traditional dryer.
  8.Coal consumption of three-cylinder dryer is 1/3 of single-cylinder dryer, and save power 40%. Small dryer can save 150,000$, big dryer can save 300,000$.
Type

Φ2.1×4.5m

Φ2.5×6.4m

Φ3.2×7m

Φ3.5×8m

Outer shell diameter
(m)

2.1

2.5

3.2

3.5

Outer shell length
(m)

4.5

6.4

7

8

Shell cubage
(m3)

15.58

31.40

56.26

76.93

Rotation speed
(rpm)

8-10

8-10

8-10

8-10

Slag origin moisture
%

15-18

15-18

15-18

15-18

Slag final moisture
%

2

2

2

2

Sand origin moisture
%

8-10

8-10

8-10

8-10

Sand final moisture
%

0.5-1

0.5-1

0.5-1

0.5-1

Highest inlet air temperature
℃

700-750℃

700-750℃

700-750℃

700-750℃

Capacity
T/h

Sand 18-25

Sand 28-30

Sand 35-40

Sand 65-70

Slag 13-18

Slag 25-28

Slag 40-45

Slag 60-65
Send Message
Thank you for your interest in Kailide machine. Any of your comments or suggestions will be welcome to fill in the form of the following email via us.Please, or call +86-18903841927. Do not worry, we will not share your name, address or phone number with anyone. We love our company, and will do our best to help you. Thank you for taking the time to get in touch with us.   E-mail: mrjohnfan168@gmail.com   Tel: +86-18903841927